Post by Ivory Sullivan on Oct 18, 2021 21:57:33 GMT -5
IVORY SULLIVAN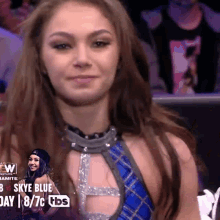 Name: Ivory Sullivan
Hometown: Seattle, Washington
Currently Residing: Las Vegas, Nevada
Billed From: Las Vegas, Nevada
Height: 5'7
Weight: 130 lbs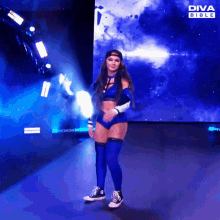 Pic Base: Skye Blue
Entrance Theme Song: Faster by Within Temptation
Entrance Description: The opening chords of "Faster" strikes up over the sound system as Ivory Sullivan comes walking out from the back. She spins 180 degrees at the top of the ramp and looks over her shoulder with a smile. She turns back around and begins walking down the ramp. She slides into the ring, hops on the second turnbuckle and sticks her tongue out while tossing her hat into the crowd.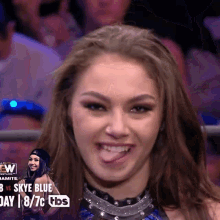 Alignment: Lawful Neutral
Description: Ivory Sullivan doesn't really conform to any rules of being a face or a heel. She has her own set of rules that she adheres to and will not compromise herself for nobody. Ivory is very much an independent woman but does tend to stay within the rules when competing inside the ring. Now she does have a mean streak but that only comes out when pushed behind her own moral boundaries.
The Moves of Ivory Sullivan
Finishing Moves (3x)
Main Finisher: Whiteout Everything (Superkick)
Secondary Finisher/Submission: Ivory Tusk (Rear Naked Choke)
Big Match Finisher/Desperation Finisher: Gambler's Rapier (Half Nelson Back Stabber)
Signature Moves (4x)
1. Shot of Ivory (Snapmare Driver) *Can be used as an Alt Finisher*
2. Brick Wall (Spear)
3. Headshot (540 Kick)
4. IS Bomb (Backslide Driver)
Regular Moves (10)
1. Dropkick
2. Corner Knee Strike/Bulldog Combination
2. Left Arm Clothesline
3. Suicide Dive
4. Middle Rope Splash
5. Diving Elbow Drop
6. Slingshot Downward Spiral
7. Multiple Suplex Variations (German, Belly to Belly and Exploder)
8. Spinning Kick while kneeling
9. Step Up Enziguri
10. Small Package
Short Bio
Ivory Sullivan is the only daughter of wrestling legend Brick Sullivan. She has been wrestling for the past five years. She is a southpaw. She was trained by Veronica Holt. Ivory was once part of the The New Foundation with Shelby Holt. She has an ongoing feud with Ella Singleton and Denise Andrews. Ivory's brother Cassidy is also a wrestler but tends to be on the lazy side.