Post by Daniel Russow on Mar 2, 2019 13:53:46 GMT -5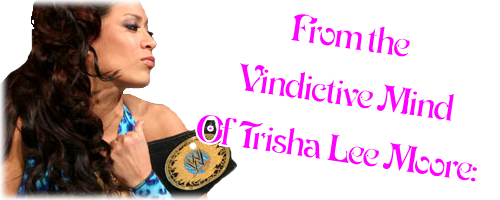 Salvation. Center Stage versus Damage Inc, round 3. And it's not like it's even the "rubber" match. It's always been Center Stage over Damage Inc, ever since the beginning. Way back to Destiny when we formed … we had one over on them. Back at Independence when we won the belts, to the Anniversary Show were we dominated as a team … continuing into Salvation where we put Kurt and Laura down once and for all. No matter what we have to do, those two will NEVER get another shot at these belts again. They weren't even credible champions anyways. What did they do as champs? Beat Tank and Thunderbird … oh that's something that ANYONE can say they've done. That's like being a retard and saying you can count to potato. No one gives a shit. It's like … "good for you, shut the fuck up".

You see now that these belts are around our waists, they have meaning again. They are legit again. You two nearly ruined these belts, thank god they are on some one who can ACTUALLY defend them with pride. Some one who can hold the belts high in the air that PWSR management isn't ashamed of as champions. That's right I said it. PWSR Management is ashamed of Kurt Kaoss and Laura Phoenix. Why do you think neither of them has had a shot at the big one? The closest they came was getting their ASSES kicked in Battlebowl 2. You know when Laura couldn't even make it to the battle royal part? Or what about back when I eliminated Kurt from the Champion's League? Sure they each got one FLUKE win over me. But since then … it's been proven that it was only a fluke.

And you know what? They DESERVE every beating they have received from us. They deserved to have Nick turn his back on them at Destiny, spearing Laura to the mat; along with the backstabber I flawlessly delivered to Kurt that night. Kidnapping that whiney little braniac Spinelli and torturing him was only the beginning of the hell we plan on unleashing towards Damage Inc. That's just the start of the things we have in store. We are vindictive, manipulative, and unpredictable individuals capable of things you couldn't even imagine. We have proven over and over that Center Stage is the dominant team … and we proved it once more at the Anniversary show when Nick pinned Kurt's shoulders to the mat for the 1…2…3! But you guys are gluttons for punishment, as you have invoked your rematch clause. You two should have just tucked tail and ran, but you didn't. I'm not exactly sure if I should think your idiots, or commend you for being so resilient

…

…

Yeah they both are just idiots. But that is something we already knew. Damage Inc are nothing but pathetic losers, and will ALWAYS be second best. Who was second best at Destiny? Damage Inc … although technically I think they were third best, even PWSi did better than THEY did. Who was second best at Independence? Damage Inc. Who was second best at the Anniversary Show? Damage Inc. Anyone else see a pattern here? Cuz I do! And believe me … it's not over. It's you, it's us. Thirty Minutes, Iron Man Tag Match … this is going to be so … much … FUN

MWAHAHAHAHAHAHAHAHAHAHAHA
The scene opens up outside a building. Trisha Lee Moore and Nick Madison are standing there, looking towards the entrance. Trisha is wearing a button up shirt with a pair of blue jeans and white sneakers. Her hair is down and straight, flowing over her shoulders. She has a pair of dark sunglasses on top of her head, holding some of her hair back like a headband. Nick is wearing a black button down shirt with white undershirt, and has the sleeves rolled up halfway up his arm. He's wearing blue jeans with tennis shoes, along with a pair of sunglasses that sit on his head above his eyes. Trisha looks at Nick as she speaks.
Trisha:
You sure this is the right place?
Nick:
Yep. It's perfect. I hear they torture their clients.
Trisha:
He could use a little torture, and I'm not talking about the torture of not being able to shovel food in his face for a whole 5 minutes.
Nick:
Knowing him, he'd probably find the torture...somehow...kinda...kinky...
The two shake their heads in disgust at Nick's insinuation.
Trisha:
That's absolutely disgusting. I never want to hear the word "kinky" used referring to anything with Kurt again … I just might PUKE on you. Anyways you know our cover story?
Nick:
Yeah, we're the loving, yet concerned, grandchildren of our beloved grandpa Kurtis, and we're here because we think it's time he go into a home, because with us being on the road 24/7, we just can't keep our eyes on him anymore. Now, unbutton your top button and get ready to look emotional...
Trisha glared at him a little bit as she unbuttoned the top button of her shirt and took the pair of dark sunglasses off her head and placed them on her face, covering her eyes.
Trisha:
Shut up Nick.
Nick:
Actually I just wanted to get a better look....nice view.
She then promptly smacked him on the shoulder.
Nick:
What? You got a nice rack, I'm not ashamed to admit it.
Trisha:
UGH! Just remember when we are in there … we are brother and sister …
Nick:
Yeah yeah yeah.
Trisha:
Which means you DON'T stare at my breasts unless you want them to think we are a bunch of pervs or something!
Nick:
Alright, in that case, let me get one good look in before we go in there...
Trisha:
What the!?
Nick:
Jesus! I'm kidding, damn!
Trisha:
Let's just do this.
Nick:
Wait, what's our names?
Trisha:
We'll just go by Trisha and Nick … it's not like the people here will recognize us … it's all … old … people. And I'm sure anyone who works here wouldn't be a wrestling fan anyways. They are too busy chasing around these old bastards.
Nick:
Yeah, but what about the last name? You know they're gonna be asking all kinds of questions and shit, and they'll need a last name.
Trisha:
True. You got something in mind?
Nick:
Hmm, it needs to be something far away from any of our actual last names, just so we don't jog someone's senile memory or something by saying our name. I mean, let's face it, you and I are kinda household names...Kurt, not so much, but if someone heard our name, they might recognize us or something.
Trisha:
Oh just make something up.
Nick:
Uh...Pussywillow...
Trisha:
...
Nick:
Fuqua?
Trisha:
What the...
Nick:
Let's see...hmm....Peters...Nick, Trisha, and Kurtis Peters...
Trisha:
Kurtis?
Nick:
Yep, to further add to the illusion that he's insane.
Trisha:
Eh, whatever works. Let's go take care of dear ole' Grandpa Kurtis.
Nick:
Now, if we can just manage to keep straight faces through all of this.
Trisha:
That's what the glasses are for … so i can look away without suspicion.
Nick:
...good thinking.
Nick pulls his sunglasses down to cover his eyes.
Trisha:
Copycat...
Nick:
Hey, if it works, it works. Time to go put Kurt where he belongs … in a RETIREMENT home.
Trisha takes a deep breath as they both head into the building. They walk in and are greeted by an overly perky woman who looks to be about 25 years old, and entirely too happy and energetic to be working here.
Woman:
Hi and welcome to Golden Years Retirement Home! How can I help you?
Nick:
Uh...hi.
Trisha:
Nick, let me.
Nick:
Uh, oh...okay.
Trisha smiles an overly large, fake smile as she looks at the woman.
Trisha:
Hi … we need to sign up our dear ole grandpa Kurtis. He's just gotten to be such a …
Woman:
A handful?
Trisha:
You have no idea. Now, this is a bit of a … special … case. He's … well he's had a rough road and he … well … he thinks he is PWSR superstar Kurt Kaoss. He has been sneaking off thinking he has to go "compete" on the shows and … well with our careers we travel an awful lot. And we just can't go chasing after him anymore.
Woman:
Oh, he's got dementia?
Nick:
He was in the war. He has a lot of special needs. Do you think you guys are up to the task?
Woman:
We haven't met a senior we couldn't handle!
Trisha:
That's good because he's not exactly a small man. He's rather large.
Nick:
Oh that reminds me … his teeth are fake and he's not allowed to eat real food.
Trisha:
Oh … yeah! He has to be on a liquids only diet. Broth, jello, and juice that's all he can eat.
Nick:
He doesn't like it at all, and he might put up a little bit of resistance at first, but it's what the doctors have told him he needs to do...he just doesn't want to listen.
Trisha fakes a sniffle.
Trisha:
He's so stubborn.
Woman:
Don't worry we will take great care of your Grandfather. So which one of you is his grandchild.
Trisha:
We both are.
Nick:
Yeah, we're brother and sister. What did you think we were? Married?
Woman:
Oh, your brother and sister … You don't really look alike at all.
Nick:
Half. We have the same father. My mom was American.
Trisha:
And my mom was Columbian.
Nick held his hand up to his face and whispered to the woman.
Nick:
Her mom was a whore.
Trisha promptly punched Nick in the shoulder. He grabbed his shoulder.
Nick:
She doesn't like to talk about it.
Woman:
Wow … you guys sure do fight like siblings.
Nick:
Yeah we get that a lot.
Trisha:
Anyways, back to Grandpa Kurtis.
Nick:
Right, now we discussed his diet and dementia, but we also need to warn you about his violent war flashbacks.
Woman:
Oh my, violent?
Trisha:
Yes, its depressing really. Everytime we try to take him somewhere, or anytime he gets startled, he seems to just flashback to his days in the war. He starts screaming and swearing, its an awful sight, and our emotions just can't take it anymore.
Nick:
So, you see, that's why we're here, looking for your help. It's just grown to be too much for us to be able to handle. It … it just hurts to see Grandpa Kurtis so delusional. He actually thinks he is a professional wrestler by the name of Kurt Kaoss. He thinks he's best friends with Laura Phoenix … and that he's fighting Center Stage at their upcoming pay-per-view event.
Trisha:
And we don't want dear ole Grandpa Kurtis to get hurt. Those two are brutal...
Nick:
… Evil …
Trisha:
… Deadly …
Nick:
… Ruthless people. And they could paralyze an old, delusional man like him.
Woman:
I understand. War veterans with Post Traumatic Stress Always tend to lose it. Where is Grandpa Kurtis?
Trisha:
See … that's the thing. He kind of ran off to chase the PWSR down. So your going to probably need to tranquilize him. He will stop at nothing to get out to the ring thinking it's his job. It's … so sad really.
Woman:
Ok you guys just need to fill out some papers … I didn't catch your names though...
Trisha:
Oh my name is Trisha Lee...
Nick elbows her in the side.
Trisha:
Lee...mon … Leemon … Lemon! Trisha Lemon.
Nick looks over at her confused as she slightly shrugged.
Trisha:
Lemon is my nickname. My real name is Trisha Peters. This is my half brother Nick Peters.
Woman:
Ok one moment while i go grab the paperwork.
The woman walks off as Trisha and Nick look at each other.
Nick:
That was close.
Trisha:
Do you really think I'm Evil and ruthless?
Nick:
As evil as they come. Do you really think I'm brutal and deadly?
Trisha:
I wouldn't be teamed with ya if I didn't think so.
Nick:
Awe … did we just have a moment?
Trisha:
Shut the fuck up. Your my brother today remember.
Nick:
True … who did I think we were? Earl Ray Norton?
Trisha smirked as the woman came back and they began filling out some papers. The cameras fade to black and come back showing them out in the parking lot afterwords. They take off their sunglasses and look at each other.
Nick:
Priceless. I can't wait to see the men in white come and take away poor Grandpa Kurtis. I sure hope he can make it to the ring for his match.
Trisha:
If not … one on two will be just fine. I've been wanting to get a shot at Laura without Kurt in the way anyways.
Nick:
Speaking of Laura … shouldn't we do something to her too? Don't want her to feel left out do we?
An evil smirk crosses over Trisha's face as she looked at Nick.
Trisha:
I have just the thing to take care of Laura …
Nick:
That look worries me …. but it also makes me extremely curious. What kind of evil plans do you have circulating in that head of yours?
Trisha:
You'll see!
She grabs his arm and drags him to the car as they get in and drive off. Moments later the camera's catch them pulling up to a strip club. They got out of the car as Nick sees the name of the place and an ear to ear grin takes over his face.
Nick:
You are the best tag team partner on the face of the Earth … you know that right?
Trisha looks at him and then promptly punches him in the shoulder.
Trisha:
We are not here for your perverted pleasure you sick-o! We're here for Laura.
Nick looks at the building again.
Nick:
Oh … Laura works here in between shows? I know they took a pay cut when we took the belts from them but Damn.
Trisha:
Well she doesn't work here just yet.
Trisha smirked as she pulled out a bag from the backseat and takes out a red and blond wig and put it on her head. She looks at Nick.
Trisha:
But she will.
Nick:
You gonna get all slutty and stuff for me?
Trisha looks at him and scoffs.
Trisha:
Ew. No not for you. And not slutty. Just enough to make her look bad.
Nick:
So your willing to make yourself look bad to make her look bad?
Trisha:
Well it's not like she needs my help. But hey I'll take one for the team.
Nick:
That's what …
Trisha:
If you say "That's what she said" I swear to GOD I will hurt you. Just shut up and help me hide my hair under this wig!
Nick smirks as he walks over and helps her hide her natural hair under the wig.
Nick:
You gotta slut yourself up. Trust me, I know a thing or two about the type of girls that work here.
Trisha:
Do...I even WANT to know how you know? And I swear, if that was a crack at me, I'll kill you myself.
Nick:
Calm down, killer, it was actually a reference to some of my ex-girlfriends. I mean, I did date Lycra, after all.
Trisha:
Ha! I almost forgot about that bitch! Oh yeah, and Sapphire too!
Nick:
Watch it...
Trisha:
What? Oh yeah, you knocked her up, didn't you?
Nick:
*sigh* yes, yes I did.
Trisha:
Sucks for you.
Nick:
Oh, shut up and get slutty.
Trisha looks down to the button up shirt she was wearing and rolls her eyes as she starts to unbutton some of the buttons, making herself look a little more slutty as she and Nick then walk into the place. They get inside and the music is almost overwhelming. Some of the guys hoot and holler when they see Trisha. She goes to attack them but is held back by Nick.
Nick:
Not the time Trisha … or should i say Laura?
Trisha:
Shut … up … I'm doing this for a REASON ya know.
She walks up to the bar and looks at the bartender.
Trisha:
I need a job application.
Bartender:
Applying to be a dancer there, sweet thing?
Trisha:
Just shut up and get me an application before i jump over this fucking bar and strangle you with your own towel!!!
Bartender:
*looking at Nick* Oh, she's feisty.
Nick:
You have no idea … believe me.
Bartender:
Lucky you. Alright little lady, hold on while I check with the man in charge, he'll have to see if you pass the visual test.
Trisha:
Visual test?
Bartender:
Yeah, if you're hot enough.
Trisha:
Puh-lease do you even KNOW who I am?
Bartender:
No … but I'd like to.
Trisha:
I'm Laura Phoenix … former PWSR Tag Team Champion. I'm like a celebrity or something. Just give me an application.
The bartender handed her a piece of paper as he went off to go find the man in charge. Trisha looked at the paper and grabs a pen on the bar.
Trisha:
Name … Laura Phoenix. Age … 75 years old. Sex: More than you could imagine. STDS … All of them.
Nick:
Isn't the point to make it look like they WANT to hire her?
Trisha:
Oh … right.
Trisha then proceeds to fill out the application and got to a certain point and stops.
Trisha:
If only we had her cell phone number! These fuckers calling her would give her a heart attack … and that "precious" husband of hers reason to doubt her faithfulness.
Nick:
You need her cell number? I got it...
Trisha looks at Nick.
Trisha:
Why do you have her number!?
Nick:
Relax, it's from when I was in PWSX. You know, before I stabbed them in the back.
Trisha:
Oh...okay then, what is it?
Nick:
Here, let me find it.
Nick pulls out his cell phone and scrolls through his contact list and finds Laura's number, and then shows it to Trisha, who writes it down on the paper.
Trisha:
Alright. I still don't understand why you've kept her number in there...
Nick:
Eh, sometimes I drunk dial people as a prank...
Trisha:
Anyways … this looks to be an impressive …
Just then the man in charge walked in and stopped in his tracks.
Boss:
Nice. I must say you pass the visual test with no problems. Can i see your application?
Trisha hands him the application and smiles.
Boss:
Laura Phoenix. Now I just need to see a sample dance there, Sugar.
Trisha:
Please … I don't give the goods away for free. *giggle* But I do want to know … what's your policy on sleeping with the customers?
Boss:
That's a big no there …
Trisha:
Damn … i think this place might be a little to … Classy for me.
She gets up off the barstool and walks towards the door, Nick following.
Trisha:
Call me … anytime of day … or night.
She winked as she and Nick walked out the door. They got to the car as she ripped the wig off and buttoned up her shirt.
Trisha:
I hope I'm nearby when Laura gets THAT call. That place was so … dirty.
Nick:
They had some amazing dancers in there though … I know i know … you're about to punch me aren't you?
Trisha:
You know me too well.
She was about to punch him when a sign across the street catches her attention.
Trisha:
Phoenix House of Love? Is that … a …
Nick:
Whorehouse?
Trisha:
Figures … it has Phoenix in it … I wonder how much they would pay us for Laura over there …
She grabs Nick by the arm and drags him across the street. Shockingly … he didn't put up much of a fight. They get across the street and walk in. Trisha scowls as the place is filled with hookers and whores, and just looks … cheap. A woman dressed like a slut walked up to Trisha and Nick.
Hooker:
What can i do for you two?
Trisha:
How much do the hookers here get paid?
Hooker:
Hunny, you're too cute to be a hooker.
Trisha:
Oh it's not for me … it's for a … friend … of mine. Problem is I think she has some sort of disease. I mean she sure spends ALOT of time on her back if you know what I mean.
Nick:
Not to mention the guys she hangs around...they're not exactly the cleanest of guys...one's a fat slob, the other's an illiterate redneck...
Hooker:
Sorry we only take clean hookers here.
Around the corner a howl was heard as PWSi Vixxxen Miss Puppies comes out of the one of the rooms itching her crotch. She looked back in the room.
Miss Puppies:
Don't worry you'll get feeling back in your legs in about an hour.
She adjusts her boobs and closes the door.
Miss Puppies:
Damn I think I lose another customer.
From the room across the hall, Dirty Dogg walks out with his belt unbuckled.
Dirty Dogg:
I think we have chosen our hooker. Pay the woman.
Miss Puppies pulled a wad of money out of her pocket and handed to a small, redheaded girl who walked out of the room as they all walked down the hall. Trisha looked at Nick.
Trisha:
Ok I think I'm going to catch something just by BEING here … I also feel like i need a flea bath … It's not like Laura would be worth a whole lot anyways. She talks too much.
Nick:
SHE talks too much?
Trisha:
Shut up and MOVE.
She pushes Nick out the door. Before they fully leave, some one familiar catches their eye. They look over to see a slightly chunky woman with brown hair standing there. She looked extremely trashy.
Nick:
Is that …
Trisha:
Whorelow?
Woman:
How do you know that name … OMG IT'S YOU TWO...
Trisha:
That's it I'm out of here!!!
She quickly escapes the building, Nick following, as the cameras fade to black.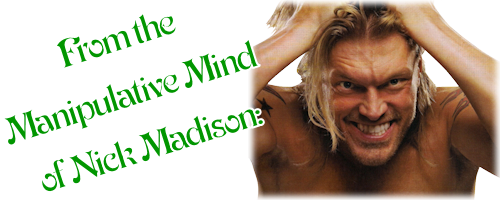 So, I guess this is where I say the time for talk is over, right? Meh, I suppose I can talk a bit more. After all, when you have a partner like Trisha, you tend to try and talk every opportunity you get, cause you never know when the next chance you'll get might be. Now, we're here to face Kurt and Laura...yet again, and we're going to walk out of the building victorious...yet again. You know, I can't help but laugh at the stupidity of Kurt and Laura. I mean, I know that they were ignorant and all, but damn they're just making me think they're just retarded or something. It seems like they still haven't let it sink in that I just...don't like them. I mean, sure, I've fucked with them a few times, like the Awards show and all, but that was just me fucking with them. There was nothing behind that, but yet they seem to have thought that was somehow me starting to turn on Trisha or something? Please, why would I turn on Trisha when we're actually getting along...somewhat...but more importantly, we're kicking ass in the ring.

So, this Sunday, we get the distinct privilege of kicking your ass for thirty whole minutes. I sure hope you two can last that long. Well, I'm sure Laura can, Kurt...not so much. But, let's take a moment to really look at why you two just simply cannot walk out of Cleveland as the PWSR Tag Team Champions.

Reason Numero Uno: What have you done for the division? NOTHING, that's what. You can go on and on about how you were on top of the division for a few months, blah blah blah. But the reality is that, when you were "on top" of the tag division in PWSR...there was NO tag division in PWSR. All you did was pick up the scraps from when Lucifer Effect left, and we all know there wasn't much left. Lucifer Effect was gone, Necessary Roughness was gone. Hell, even the Otis Brothers were nowhere to be seen. I mean, really, who was it you were facing? Tank, and Thunderbird...bitch please. A retard and a hippopotamus could beat those two...oh wait, you already did! Anywhore, just because you beat those two failures, doesn't mean you were dominant in anything. I mean, look at it, look at how much attention the tag teams in PWSR have gotten since Trisha and I teamed up and took those titles away from you. Management might be letting it appear that they're hoping you two win this Sunday, but deep down, even they know that it's better for the company that Trisha and I retain.

Reason Number Two: It's simple math. We = Ratings. You = Shit. Sorry if it hurts, but that's the truth. People may love us, they may hate us, but when Trisha and I are on tv, they listen. Fans don't really care what the two of you have to say, especially the old PWSX fans...hell, they're probably still wondering where that last lost episode of Throwdown is, and wondering if it's ever going to get aired. Folks, let me tell you now, you might as well just give up on that, I learned to do that quite some time ago, and now I'm much better for it. Hell, that's why I did what I did at Destiny, to show Kurt and Laura they can't just put people through pure and utter shit, and expect everyone to just be fucking okay with it! They, like everyone else, actually have to put forth an effort if they want to be worth something in this world, and I'll be the first to tell everyone, neither of them put a damn bit of effort into making PWSX anything more than a fucking joke.

Reason Number Three: You don't fucking deserve these titles, plain and simple. Hell, you don't even deserve a fucking job here after the shit you've pulled. You want to know the only thing that kept that sinking ship that was PWSX afloat for so many months? It sure as hell wasn't the two of you! It was the guys in the back, the wrestlers. WE were the ones that kept that damn company alive. And it wasn't because we felt like we "owed" it to Kurt and Laura, we did it because, unlike those two jackasses, we didn't have anything else! We weren't wrestling in another company, and using PWSX as some crap job on the side. You want to know the REAL...TRUE...reason why I turned my back on you at Destiny? It's because I fucking sat there for months...MONTHS...watching you spit on the legacy of PWSX and what that company stood for. You took a once great promotion, and twisted it, and mutilated it, and killed it. So, I hope you're fucking happy, cause all of this, all that I've done to the two of you, it's on you. You want to spit on the legacy of PWSX, the legacy that Mastermind built? Well now it's time for you to really get a taste of your own medicine, because before it's all said and done, before Trisha and I are through with the two of you, people are going to be shitting on the horrendous legacy of fail of Damage Incorporated. You can try to recruit new members to disguise it, you can try and get Earl on your side to cover it up. But, sooner or later, everyone's going to realize the fucking pathetic shit that you two are.

Reason Number Four: It's always the same thing with the two of you. You always make the same jokes, play the same tricks, all to amuse and entertain the hypocritical leaches that we call PWSR fans. The sad thing is, I know that there are going to be some people who think they'll be "smart" and be cheering for us. The only problem for those people? Trisha and I really don't give a damn what they think about us, if they cheer and sing our praises, or if they boo us out of the damn building. We're not here for your sympathies, we're here to win, and humiliate Damage Inc.

Reason Number Five: I'm fucking done with this. You two better realize, after Trisha and I beat your asses for thirty minutes on Sunday, and walk out with the titles, this is over! There will be no more fourth, fifth, sixth, seventh encounters. This...is...it! There will be no rematches, there will be no "oh we got screwed wah wah." Sunday night in Cleveland, Trisha and I are going to show you, the fans, the whole fucking world that we are just...fucking...better than the two of you! You can play tricks, make jokes all you want. But, at the end of the day, it's just a simple fact. You know it, we know it, Wylde knows it, Diamond knows it, the fans know it, the retards in the Cleveland mental institute even know it. EVERYONE knows that Damage Inc just cannot match up to Center Stage. Bring your A-Game, you're damn sure going to need it. Because once that bell sounds, there will be no stop, no mercy, no giving up, no end to the pain and torture we're going to put the two of you through. Trisha has her reasons. I'm doing this for all the hell you've put me through in the past year. I'm done, it's over. So now, NOW...the time for talk is over. Now, It's time to play.


The...End