Post by pwsstaff on Sept 27, 2022 23:27:58 GMT -5
Riot 9/27
Tuesday, September 27
Ottawa, Ontario, Canada - Canadian Tire Centre


(The PWS: APEX logo flashes across the screen, before the scene cuts backstage to see Jenn Makarios-Lopez on the phone with someone, she just arrived at the arena not even 5 minutes ago. Her phone rings and she picks it up.)
Jennifer Makarios-Lopez: Ahh! Just the person I was waiting for, I just arrived at the Arena and I'm sure Gracie showed you to my locker room right?
(She's walking down the hallway listening to the other end, before nodding. Little do she know, around the corner, Lexi heard all of it and slowly follows her sister, not making any noise to startle her.)
Jennifer Makarios-Lopez: Good! I can't wait for everyone to meet you, and I'm gonna be there in just a minute.
(As soon as she hangs up the phone she enters her locker room. In her locker room stands a tall man, around 6'4, and young and handsome looking too. Next to him is a female kinda small standing next to him, but she isn't Gracie. But Jenn knows her just like she knows this tall man, they share an embrace with all of them smiling.)
Jennifer Makarios-Lopez: Gracie leave?
Brooklyn Martinez: Yeah, they went to get something, her and her dad.
Jennifer Makarios-Lopez: Ah, well I'm still really glad you guys are here!
(Jenn gave the man a hug, and no sooner did that happen, Alexis BURST through the door)
Alexis Makarios: AH HA!!! I KNEW IT!!!
(The yell from Alexis startled everyone, especially the 2 people who didn't know her.)
Jennifer Makarios-Lopez: Lexi?
Alexis Makarios: I CAUGHT YOU!!!
Jennifer Makarios-Lopez: It's not what you think it is…
Eddie Lopez Jr: Lexi?
Alexis Makarios: OH SO YOU TOLD YOUR SECRET LOVER ABOUT ME?

Jennifer Makarios-Lopez: What the hell are you talking about?! Did you take your happy pills?
Alexis Makarios: I know what you have been up to! All the sneaky calls, not answering my calls, avoiding me… it all makes sense! SO when were you planning to tell me about your little whirlwind romance going on? How long have you two been together? HUH?
(Jenn looks at Eddie Jr with a confused look on her face, she does the same thing. Brooklyn is confused as well, before she grows a disgusted look in her face.)
Jennifer Makarios-Lopez: Well if you let me explain….that girl over there brooklyn is a friend of mine and his. But this guy right here, he's someone i wanted introduce to you for a while now, but I know how you get with new people and stuff and I wanted to ease it on to you. But he's….
Alexis Makarios: I know who he is! Thats "EJ" … your "secret boyfriend". Where you waiting until the wedding to fill me in? I'm hurt Jenn. We are sisters and you were going to keep this from me…
(Jenn lets out a deep breath.)
Jennifer Makarios-Lopez: Yeah, He's EJ… stay with me here, you know how Crystal is my step daughter. He's my step son….Look at him… doesn't he look familiar to someone YOU know?
(Alexis grew a disgusted look on her face)
Alexis Makarios: OH MY GOD JENN! You are dating your step-son! That's some Heather Haze level porn shit right there…
Brooklyn Martinez: Who the hell… no…i don't wanna know…
Jennifer Makarios-Lopez: It's best you don't. It's a long story, something we can talk about after the show…
(Jenn turns her attention back to Lexi.)
Jennifer Makarios-Lopez: Did you forget to take your meds today or something because it shows. If I were dating anybody you know you'd be the first to know, but him? He's not my type to start with and he's too young for me and no he's not my boyfriend. He's my step son who lived in Puerto Rico, he just finally moved to California because he wanted to see his family, his dad and sisters and me. And he wanted to meet you too. But now he thinks you're crazy.
(Eddie Jr nods his head)
Jennifer Makarios-Lopez: Do you know what EJ stands for? Think real hard and put it together…
(Alexis squints her eyes a little bit, thinking. She then looks like a lightbulb went off.)
Alexis Makarios: You're gonna stand here and tell me EJ is Eddie Junior… aren't ya?
Eddie Lopez JR: Si.
(Alexis laughs)
Alexis Makarios: No… seriously. Eddie doesn't HAVE a son.
(Eddie creeps in behind Lexi, quietly even with crutches.)
Eddie Lopez: But I do. He's my baby boy.
(Alexis jumps, startled at Eddie behind her. She looks around at everyone looking at her like she was a raving lunatic… which… at this point she kind of was.)
Alexis Makarios: None of this makes sense! Some one better explain it RIGHT NOW!
(She glares over at Eddie)
Eddie Lopez: It's a long story, and I don't think right now is the time for it. I know Gracie has a match to get ready for you 2 need to be ready for the big match coming up. But he is my son, he's my youngest and he's going to be wrestling here in the future, so you're going to get used to seeing him around…and you've seen him before, last year at my dad's funeral. He was sitting next to me, how'd you miss it?
(Alexis looked confused, a little hurt, but more than anything embarrassed. She looked around the room and looked right at Eddie. She pointed at him)
Alexis Makarios: You owe me an explanation. And soon.
(She looked at EJ and Brooklyn, who now think she is absolutely insane)
Alexis Makarios: Hi, I'm Alexis. We should get to know each other at some point. But right now, I really need to go all Dr Fisher for an emergency session because… i'm losing my mind right now.
(She shook Eddie Junior's hand and then turned back to Eddie.)
Alexis Makarios: MANWHORE!
(At this point, she then walked out of the room at a brisk pace and was out of sight within seconds. The cameras focus back on the rest of the group.
Jennifer Makarios-Lopez: ….. I think that went well…
Eddie Lopez: Is she high or something?
Eddie Lopez JR: Lexi es muy loca…
Jennifer Makarios-Lopez: She means well… but I think we should give her some time to cool off. You up for a tour of the arena?
(With that the cameras cut to the opening video package for Riot, as "Trials" by Starset plays. After the video package, we cut to inside the arena, as the sold out crowd in Ottawa is on their feet, and we are greeted by the ever familiar voices of JR Freeman and Alfonso Banks.)
JR Freeman: What the…another Lopez!?
Alfonso Banks: Seems that way…they just…they're like rabbits by this point.
JR Freeman: And people give the Russows hell…well, in any case. Hello, and welcome to PWS: APEX Riot! We have a great show for you tonight, on our final stop before Dishonored! We have a huge six person main event, a last chance tag team match, we'll get to see Jesse Russow in action, as well as a battle of the Aces! But first, we're going to start things with that Jesse Russow match I spoke about, as he takes on Moondust in our opening match.
---
Match One
Singles Match
Jesse Russow vs. Moondust
JR Freeman: We have a lot to get situated tonight, the PWS world has been thrown into disarray!
Alfonso Banks: I have a horrible…horrible feeling.
JR Freeman: Why's that partner?
Alfonso Banks: Because the opponent is starting out already in the ring and it's Moondust. I was REALLY hoping we were going to avoid wholesale slaughter tonight but-
(Before he can finish his thought the lights kick out as a simple drum hit plays with DJ Paul's voice growling over it.)
"If you ROWDY…say you ROWDY!
If you ROWDY…SAY you Rowdy!
I'M FROM…A CITY THAT IS ROWDY-ROWDY!"
(Before it can even continue, Jesse Russow has already stormed out onto the ramp to a massive swarm of boo's as Slaps McKill saunters out flanking him. They bump knuckles and Jesse darts towards the ring, shedding his shirt along the way as he slides under the bottom rope.)
DIN-
(Before anyone can say anything, Jesse has already hit Moondust with The 187.)
Alfonso Banks: SEE! SEE! I TOLD YOU SO!!!
(Jesse kips up and stomps around the ring like a feral lion making sure to glare at as many people as possible before sliding out of the ring and getting in JR's face.)
Jesse Russow: TELL 'EM…TELL THE WORLD…I. AM NOT. TO BE FFFFFUCKED WITH!!!!
JR Freeman: Get outta my face!
(Jesse punks JR out acting like he's gonna hit him, JR recoils, but Jesse turns and slides back in the ring as the referee is checking on a dazed Moondust who's trying to climb back up to his feet. Jesse slinks into the corner taking position and screaming for Moondust to get up as he runs connecting with yet ANOTHER 187!)
1!
2!
3!
WINNER BY PINFALL - JESSE RUSSOW
(Jesse spins around and glares into the hard cam as Moondust lies staring at the lights…he MAY be concussed. Slaps McKill steps over the top rope to raise Jesse's hand as the referee is able to stir Moondust…he slowly gets helped up as Jesse points at him, looks at Slap, and makes a cutthroat gesture.)
Jesse Russow: PUT THE BITCH DOWN!!!
(Slaps nods and turns to Moondust who is pleading with him, breathing heavily, facepaint smeared. Slaps flashes a moment of remorse until Jesse pats his back. Slaps suddenly grabs Moondust up like he's nothing and nails a HARD TPK.)
JR Freeman: These two have become nothing but BULLIES!
Alfonso Banks: The Russow I expected, but I kinda like what's gotten into Slaps McKill lately!
JR Freeman: Well I don't. Slappy McGoo was a PURE HEART and a GOOD SOUL!
Alfonso Banks: And it got him cucked and divorced!
JR Freeman: Oh please…PLEASE say that a little louder.
Alfonso Banks: IIIIIIIII am good.
WINNER - JESSE RUSSOW
---
(When Riot returns from a commercial break, we find the ring decorated with two chairs, a table covered with a deep red velvet cloth, and a podium in the centre bearing the "PWS: Apex" logo. Behind the podium stands the company's chief interviewer, Tayna Reihl.)
Tayna Reihl: Thank you everybody for the warm welcome; it's true what they say about Canadians, because you really are one of the kindest crowds I have ever had the pleasure of standing in front of!
(This elicits a cheap pop from the audience.)
Tayna Reihl: But now it's time for us to get down to business: the official contract signing for the Collateral Damage at Dishonored between the number one contender, Dylan Howell -
(Howell gets a respectable smattering of cheers from the crowd.)
Tayna Reihl: And the PWS: Apex Collateral Damage champion, "Unbreakable" Devon Ryder!
(The audience EXPLODES at the mention of the Canadian Hero's name, peppering in a chant of "UNNNNN-BREAAAAAAK-A-BLLLLLE! CAAA-NAAAA-DI-AN HE-ROOOO!" to the tune of the Canadian National Anthem for good measure.)
JR Freeman: Wow, these certainly are Devon Ryder's people, Alf!
Alfonso Banks: Well what do you expect, JR? They're CANADIANS! They tend to stick together. I think it's all the maple syrup…
(The crowd continues their sustained and powerful cheering as the Guess Who's "American Woman" begins to blare over the speakers, but it suddenly shifts in tone when Ryder fails to emerge from behind the curtain. Instead, a mousey, mustached man in a pinstripe suit and small, round spectacles peeks his head out from backstage, causing the crowd to fall silent in confusion, and then begin to boo. The gentleman makes a cutting motion with his hands, as if to say "cut the music", then slowly steps out into full view of the crowd. The unknown individual has a microphone in his right hand, which he raises to his lips to address the confused and unhappy crowd.)
Mystery Man: Ladies, gentlemen and nonbinary individuals, please calm down; I know, I know, I'm not Devon Ryder. My name is Horace McLaughlan and I'm Mr. Ryder's lawyer. Devon regrets to inform you that he could not be present for tonight's event, but asks that you all please respect his privacy in these trying times, and has asked me to convey his absolute assurance that you WILL all see him at Dishonoured in just two weeks' time!
(Horace McLaughlan begins to make his way down the ramp towards the ring, as the fans react with a confused smattering of applause. He steps gingerly through the ropes and sits at the table, preparing to elaborate further, when he's suddenly interrupted by Dylan Howell, who steps out onto the entrance ramp with a mic already in hand.)
Dylan: Well we can all see plain as day who you're not. You say you're a horse, where's Devon Ryder and what kind of operation are the two of you running?
JR Freeman: Dylan Howell not even waiting to be introduced tonight, he wants to get this show on the road and is wondering where the champion's at.
Alfonso Banks: Whoever the guy is, he's smarter than Howell, I will guarantee you that!
(Horace McLaughlan looks up the ramp towards Dylan Howell, then fishes a folded collection of papers out of the interior pocket of his suit jacket.)
Horace: Ah, you must be Dylan Howell! I'm sorry, Mr. Howell; my client would have greeted you in person, but he's been dealing with quite a trying personal situation at the moment, and needed to take some time away for his own mental health. However! I assure you we are not trying to deceive you in any way, as I have here the contract for your title match at Dishonoured, which PWS management sent by mail to my client after his failure to show up at the scheduled contract signing two weeks ago. Mr. Ryder HAS signed these papers, and has even agreed to allow you to choose the stipulation for the match; all you'll need to do is sign them on the dotted line.
(Walking slowly down the ramp Dylan starts thinking aloud the closer he gets to the ring.)
Dylan: So what you are telling me is that Devon couldn't be here but he has already signed the paperwork. All I need to do is sign myself and the match is official and I can even pick the stipulation, is that right, horse?
Horace: My name is Horace.
Dylan: A horse is a horse of course, of course!
(At this point Dylan steps inside of the ring himself and starts looking the attorney up and down with a huge smile on his face, the crowd becoming both more confused and unglued by the second.)
Dylan: You know that is a very interesting get up you have there, horse. But I could probably get that same cheap suit at the local Wal-Mart if I really wanted to. The thing is though I don't want to do that, because I don't think it's worth it considering you are not who you say you are! You sit on a throne of lies!
(Devon Ryder's lawyer sputters at this, both surprised and confused by Howell's response, as he takes up his own microphone to reply.)
Horace: Well, I have no idea what you're saying, Mr. Howell; I assure you, I am very much speaking the truth, and this is in fact the genuine contract for your Collateral Damage title match with my client at Dishonoured! If you'd just like to take a moment to read it over…
(He begins to spread the pages out on the table in front of him, motioning to them and then to Dylan.)
Dylan: I don't want to take a moment to read over anything that you have brought here tonight, because I was not expecting to see you, horse, or whatever your name is. I was expecting to see Devon Ryder tonight, not you. I bet you don't even know the real Devon Ryder!
(The attorney appears to be growing indignant now, as his face looks flushed and he sort of breathes out in an indignant huff.)
Horace: Well, Mr. Howell, I'm very sorry to disappoint you, but I assure you I very much DO know Devon Ryder, and I've been his legal counsel for a number of years now! I understand you and these fans might be a bit let down by his failure to appear tonight, but as I said he's going through quite a rough time in the wake of his separation from Ms. Desiree de La Roche, and wishes for his privacy in these matters to be respected. Now, if you're not going to read over the contract, I would happily leave a copy with YOUR attorney, so you can-
(Howell interrupts him now.)
Dylan: I'm getting VERY impatient here, and since you mentioned them already, these fans here in the great white north are getting VERY impatient also. I don't believe that you even know Devon. I know him more than you do if you want to know the truth.
(Dylan starts sniffing around the attorney who is becoming very annoyed.)
Dylan: You smell like beef and cheese! You don't smell like Devon Ryder!
(Horace McLaughlan sputters indignantly, pulling away from Dylan Howell and weakly, ineffectually swatting at him with the contract papers.)
Horace: Stop- stop SNIFFING me! I assure you, I really DO represent Devon Ryder, and if you don't believe that, I'm afraid there's nothing else that I ca-
(Before he can finish his sentence, Dylan Howell interrupts the man again.)
Dylan: Horse, or whatever your parents call you, you say that you do know Devon Ryder, I am almost sure that is not true, but in the event that you do somehow know Devon I am giving you one last chance to get him here, NOW! Because if Devon doesn't materialize soon, something bad is going to happen and since you are the only other person in this ring? I think we know who something bad is going to happen to.
JR Freeman: Ooh, strong words there from our Number-One Contender; I would NOT want to be Horace McLaughlan right about now!
Alfonso Banks: I think you mean "Horse", JR. I'm pretty sure his name is Horse.
(The lawyer immediately begins to backpedal away from the man who just indirectly threatened him, throwing his hands up in exasperation before speaking into the microphone one last time, his anger and frustration written plainly on his face.)
Horace McLaughlin: Okay, LOOK. I don't know how much more clearly I can spell this out for you, Mr. Howell, so I'll be as blunt as possible: DEVON. RYDER. IS. NOT. HERE!
(Nodding, Dylan knows what he is about to do now, taking another step toward the lawyer before grabbing him by the lapels of his suit.)
Dylan: Well... I tried to tell you…
(Dylan then lifts up a very frightened McLaughlin and with the crowd becoming unhinged hits the DOA on him. Then Dylan takes the contract and signs it before dropping it on the lawyer before saying one last statement.)
Dylan: If you do know Devon Ryder, you tell him he better be there in two weeks!
JR Freeman: Damn, a VERY defiant statement from the challenger here! Clearly, Dylan Howell isn't messing around when it comes to this title opportunity!
Alfonso Banks: Nor SHOULD he be, JR! Devon Ryder was disrespectful of not just his opponent, but EVERYBODY'S time by not showing up tonight, and if I were Howell, I think I would've given the lawyer even worse!
(Howell makes his way towards the back now, to a solidly mixed reaction from the crowd as "Adrenaline" by Gavin Rossdale begins to play him off. Our last shot is of Howell looking back over his shoulder at the lawyer writhing in pain on the mat, being seen to by EMTs, and nodding in admiration of his own handiwork.)
---
[hr[
Match Two
Singles Match
Gracie Lopez vs. Carmen Rodriguez
(The match starts out in the typical good versus bad fashion, Gracie getting the cheers, Carmen getting the boos. The two size each other up for a few moments, before locking up and going through a series of counters and reversals. Max Delgado does everythin he can to cheer Carmen on from the outside, as she starts to take control of the match. She gets a few high impact moves on Gracie, and even manages to get a near fall.)
1…
2…
Kickout!
Max Delgado: Stay on her!
JR Freeman: Carmen Rodgriguez looking good out here. Honestly, both these girls are.
Alfonso Banks: I'd keep my eyes on Max Delgado…never know when he'll get involved. He said he wouldn't, but I don't know if I trust it.
JR Freeman: Well, so far he's just been a cheerleader for Carmen.
(The match continues, as Gracie starts to make a comeback. But her momentum is stopped in place when Carmen nails a picture perfect Superkick! Both girls fall to the mat, as Max screams for Carmen to make a cover, but she's holding the leg she planted with.)
JR Freeman: Carmen may have injured herself there with that kick. I thought I saw her knee twist a way it shouldn't. Hopefully it's nothing too serious.
(Gracie starts making her way back to her feet, as she sees Carmen messing with her knee. Gracie wastes no time in getting Carmen up, and planting her with the Blue Thunder Bomb, going for the pin.)
1…
2…
3!!!
Meg Reynolds: Here is your winner, Gracie Lopez!
JR Freeman: Quick thinking there from Gracie. You'd think Carmen had this match won if she could have capitalized after the superkick. Just hope she's okay.
Alfonso Banks: I'm sure she will be. She's got Max to take care of her.
WINNER - GRACIE LOPEZ
---
(The scene cuts backstage, where we see Claire Anderson standing by.)
Claire Anderson: Please welcome my guests at this time, Daniel and Audrey Russow!
(We hear a cheer from the live audience, as Daniel and Audrey step into the shot.)
Claire Anderson: Hey guys, thanks for taking the time to talk with us.
Daniel Russow: I mean…it's not like we've been all that busy lately…
(Dan gets an elbow from Audrey.)
Audrey Russow: What he meant to say was it's our pleasure.
Claire Anderson: Well, I mean..he does kinda have a point It's been a while since either of you have been booked. Given the fact that you were both successful in your last matches, is there any reason to that?
Audrey Russow: We are just enjoying the ride. I was going strong for so long, I'm enjoying taking things a bit easier. It's only a matter of time before things pick back up again, and our names will be back in the lights. B'sides…I still got that little title shot in my back pocket. I won't be holding onto it forever.
Claire Anderson: What abou for you, Dan? Any goals?
Daniel Russow: Actually…if you'll excuse me. I need to go talk to someone about what has to be done.
Claire Anderson: Oooookay then, I'll let the two of you get back to it. Thanks for chatting with us.
Audrey Russow: Always, Claire.
Daniel Russow: Later.
(We cut back to ringside.)
JR Freeman: What do you think Dan meant by that? "What has to be done"?
Alfonso Banks: Who knows…and I am not even going to try to predict what is going through a a Russow's mind. So I say we allow time for it all to play out as it will.
JR Freeman: Well, before all that, we need to take a quick commercial break. Stay tuned everybody!
(The show goes to commercial.)
---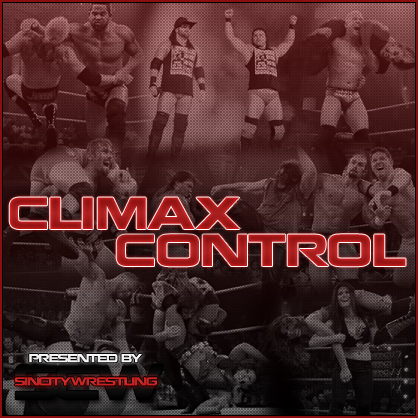 SCW Climax Control
Locale: Henderson, Nevada - Dollar Loan Center
DATE: Sunday - 10/02/2022
---
Match Three
Singles Match
Ace Michaels vs. Ace Static
(The bell rings as Ace Michaels and Ace Static glare at each other from across the ring. They slowly circle each other before locking up in the middle of the ring, no fancy moves were done here but Ace Michels throws Ace Static into the ropes and rebounds. Ace Static runs right into the shoulder of Ace Michaels and neither man moves.)
JR Freeman: We have 2 meaty men in this match and we're going to see a lot of heavy moves.
Alfonso Banks: I like meat, I want some BBQ….
Jr Freeman: Are you even listening to what I'm saying!?
Alfonso Banks: Of course I am!
(Ace static swings the momentum towards him as he has his way with Ace Michaels for a little bit. After a quick pin attempt that ended at 1 with Ace Michaels kicking out. After the pin attempt, both men go back and forth. The fight spills to the arena floor, where it was still back and forth. Things started to change when Ace Michaels throws Ace static shoulder first into the steps. Ace Michaels begins to overwork the shoulder and arm area after that.)
Jr Freeman: Ace Static is took a hard shot to the arm by the steps there, do you think it'll affect him going forward?
Alfonso Banks: Well considering the steps were moved upside down, I'd say yes.
(Ace Static tries to fight back but Ace Michaels starts to overpower him, overworking the arm.Ace Static wouldn't give up if he tried, he's not the type of man that would but as he tries to fight back, it's not as effective as it once was. Ace Michaels staggers Ace Static with a forearm shot to the side of the head before hitting the "jackpot" on Ace Static)
1……..
2……….
(Ace Static doesn't stay down, he shoots his shoulder up at the 2 count. But Ace Michaels stays on top of him afterward and hits him with another "Jackpot" finisher.)
1……
2……..
3!
Jr Freedom: Ace Static tried to stay in this match as long has he can but taking 2 of those moves ended him, and he couldn't go anymore.
Alfonso Banks: Ace static brought his A-game but Ace Michaels outworked him.
WINNER - ACE MICHAELS
---
(We cut to backstage, where we see Daniel Russow and Max Sheppard standing outside of Max's office.)
Max Sheppard: Are you sure about this, Dan?
Daniel Russow: It has to be done. I came to you cause I don't fuckin' trust Shane.
Max Sheppard: I guess I'm wondering your intentions with this?
Daniel Russow: Something's gotta get through to him. He's not being the kid I know. And the path they're going, might only be one thing they understand, violence.
Max Sheppard: Alright, as long as you know what you're doing.
Daniel Russow: It'll be good, boss.
(The two shake hands, before we cut away.)
---
(We cut to the gorilla position, where we see El and Aaliyah Landerson, embraced together, as they make the final preparations before their match.)
JR Freeman: Quite possibly the biggest match for these two coming up, because if they aren't victorious, they can no longer challenge for ANY PWS: APEX Championship.
Alfonso Banks: Some high stakes in this one. They better hope, for their sake, they're ready.
---
Match Four
Tag Team Match
Participants of the losing team will no longer be able to challenge for any PWS titles.
Max Delgado & Richard Rider vs. El & Aaliyah Landerson
(The match starts off with Rider and Max arguing back and forth about who was going to start the match. Rider insists he start and after a moment, Max just gives up and goes to the corner. El Landerson starts for his team. The referee brings them to the middle and calls for the bell)
DING DING DING
(Rider and El Landerson lock up, and end up moving towards Max's corner. As soon as he is within range, Max tags himself in.)
Alfonso Banks: Well that didn't last long!
JR Freeman: Max tagged himself in the first chance he had!
Alfonso Banks: He has made it clear that he doesn't like or trust Rider…
(The referee breaks the lock up and tells Rider he is not the legal man. Rider reluctantly goes to his corner as Max comes in. He and El Landerson fight back and forth, but after several minutes Max is in control. Rider calls for a tag but Max refuses. The match continues on for a few more minutes. By this point, Rider has gone over to Alfonso and JR and is trying to hype up him and Max as a team.)
Alfonso Banks: Take a clue! He hates you!
Richard Rider: Nah! We are bros!
JR Freeman: You are a very delusional man.
(Back in the ring, El Landerson has seized control and it appears that Max could use a tag. Rider hops back up on the apron and reached out for a tag which Max refused. He continued on in the match where he hit an "El Dorado" and drops for a pin. Aaliyah tries to break it up but gets stopped by Rider.)
1…2…3!!!
DING DING DING
(The bell rings an Max gets to his feet. Rider jumps up and starts acting like he won, trying to celebrate with Max, who just glares at him and walks away.)
JR Freeman: There we go guys… the Landersons are not challenging for any more titles as long as Max Sheppard is in charge.
Alfonso Banks: That's what they get for making outrageous claims to gaining title shots in matches that had nothing to do with that.
WINNERS - MAX DELGADO & RICHARD RIDER
---
(We cut to the back, as we catch up to Max Delgado in the back, as he's approached by Richard Rider.)
Richard Rider: Hey, hey Max. Buddy. I'm stoked we won but uh…can I ask why you didn't let me in the match?
(Max stops in his tracks, turns to face Rider, and then without saying anything, decks him with a vicious clothesline.)
Max Delgado: For the LAST TIME…we are NOT. PARTNERS!
(With that, Max gets Rider to his feet, and literally THROWS him down the hall, as Rider yelps in fear.)
Richard Rider: I'm sorry! I'm sorry! Please not the face! Please don't kill me!
Max Delgado: I TOLD you to leave me the HELL alone!
(Just before Max can get his hands on Rider again, security rushes in, separating the two, as security is joined by Manny Martinez.)
Manny Martinez: You two wanna fight? Fine, Dishonored…you'll have a match.
Richard Rider: We REALLY don't have to do that!
Max Delgado: Nah, nah. You made your bed, time for you to lie in it.
(Max walks off, as we get a close up of Rider, who looks like he's absolutely about to soil his pants, before we go to commercial.)
---
PWS: APEX DISHONOREDTUESDAY, OCTOBER 11, 2022SCOTIABANK ARENA - TORONTO, ONTARIO, CANADA
Main Event
PWS: APEX World Championship Match
Triple Threat Match
Cleo Phillips © vs. Alexandra Calaway vs. Mike Hawk

PWS: APEX United Championship
Singles Match
Alexis Makarios © vs. Jennifer Lopez-Makarios

PWS: APEX Collateral Damage Championship
Singles Match
Devon Ryder © vs. Dylan Howell
Singles Match
Daniel Russow vs. Slaps McKills
Singles Match
Max Delgado vs. Richard Rider
---
Six Person Tag Team Match
Cleo Phillips, Alexandra Calaway, & Mike Hawk vs. Jonathan Sanders, Alexander Lyons, & Dionysus
Meg Reynolds: Folks, it is now time for your MAIN EVENT of the evening! It is a six person tag team match scheduled for ONE FALL!
(The crowd cheers as the announcement is made.)
JR Freeman: This match will be historic!
Alfonso Banks: How do you know? It hasn't happened yet.
JR Freeman: Well, I'm assuming, based on the competitors, that the work rate will be very high!
Alfonso Banks: You know what they say about assuming, JR! …Don't do it!
JR Freeman: Are you sure that's what they say?
Alfonso Banks: Oh, yeah! At least, like, 76%. At LEAST!
(The lights go down and "Blow" by Eva Under Fire featuring Spencer Charnas, starts to play. The arena is filled with Red and lights and fog. The Silhouette of Alexandra can be seen at the top of the ramp. She poses on the top of the ramp and as the beat drops, she starts to make her way down the ramp, towards the ring.)
Meg Reynolds: Introducing first; from Dallas, Texas; weighing in at 125 lbs.; she is the "Dark Queen", ALEXANDRAAAAAA CAAAAAAALAWAAAAAAY!
(The crowd erupts with boos as Calaway starts to make her way down the ramp, towards the ring. Stopping halfway down the ramp, she looks out over the crowd for just a moment before continuing on. She smirks as she sees some of the signs people have made - mostly negative towards Alexandra and ANTITHESIS, or showing support for Cleo Phillips as world champion - but a few here and there seem to be expressing support for the Dark Queen and her teammates. Calaway grins and ignores the shower of boos and jeers as she climbs the steps and enters through the middle and second ropes, then drops to her knees in the centre of the ring and poses with her arms outstretched, before returning to her feet to await her first partner.)
JR Freeman: Alexandra Calaway looks like she is ALL BUSINESS tonight. This is a woman who's ready to do anything and everything necessary to win this one.
Alfonso Banks: Are you surprised? This woman is TERRIFYING, JR, and clearly being haunted by SOMETHING. I shudder to see how far we'll see her go heading into the pay-per-view this week.
JR Freeman: Absolutely agreed, Alf; and with the World Champion and the other Number-One Contender on her side, I think ANTITHESIS have their work cut out for them tonight.
(The Superman theme kicks in as Mike Hawk makes his way out from behind the curtain, stopping and posing on the stage with his hands on his hips as if to say "look at me", as a spotlight shines down on his grinning face.)
Meg Reynolds: And introducing her partners, first, from Victoria, British Columbia, Canada, weighing in at 245 pounds… he is the self-proclaimed "President of Pro-Wrestling", MIIIIIIIIIIIIIIIIIIKE HAAAAAAAWWWWWKKK!
Alfonso Banks: Hawk looks ready to fight!
JR Freeman: Absolutely! But the question now is, will he be ready to fight Jonathan Sanders again? This will be their fourth encounter, fifth if you count the battle royal!
Alfonso Banks: You know I don't.
JR Freeman: Well, whether you do or not, you have to wonder if this blood feud will ever end.
Alfonso Banks: Don't tell me what I do and do not have to wonder! You're not the boss of me!
JR Freeman: Even if I WERE, you don't listen to your BOSSES either!
Alfonso Banks: Damn right I don't! Following rules is for squares!
JR Freeman: …It is AMAZING to me that you're still employed here, you know that?
Alfonso Banks: I don't question it, JR, I just cash the paycheques.
(Hawk walks to the ring with a swagger, intentionally blowing off fans, occasionally flipping them the bird. Getting to the apron, the spotlight now gone at this point, he gives a little knowing nod and a smirk before stepping inside the ring, wherein he stands and flips off the fans again with both hands.)
(A loud pyro explosion leads into the beat to "Gangsta's Paradise" echoes throughout the arena, as the lyrics begin Cleo swaggers out onto the stage. The crowd erupts as she holds up the world title and looks around at the crowd from behind her shades.)
"As I walk through the valley of the shadow of death
I take a look at my life, and realize there's nothin' left
'Cause I've been blastin' and laughin' so long
That even my momma thinks that my mind is gone"
(Cleo pounds her chest twice and points around the arena before making her way down the ramp, title over her right shoulder.)
Meg Reynolds: And from The Bronx, New York, weighing 145 pounds, the is the PWS: Apex WOOOOOOOOOOOOOORLD CHAAAAMPIOOOOON… "The Body Snatcher" CLEEEEOOOOO PHIIIILLIIIIPS!
"But I ain't never crossed a man that didn't deserve it
Me be treated like a punk, you know that's unheard of
You better watch how you talkin' and where you walkin'
Or you and your homies might be lined in chalk"
(Once at ringside, she jumps on the apron and rolls into the ring, where she postures and poses for the crowd as some more pyros go off.)
"I really hate to trip, but I gotta loc
As they croak, I see myself in the pistol smoke
Fool, I'm the kinda G the little homies wanna be like
On my knees in the night, sayin' prayers in the streetlight"
(Finally, she poses on the turnbuckle with her title held aloft over her head, the crowd exploding with thunderous applause as the chorus comes in.)
"Been spendin' most their lives livin' in the gangsta's paradise
Been spendin' most their lives livin' in the gangsta's paradise
Keep spendin' most our lives livin' in the gangsta's paradise
Keep spendin' most our lives livin' in the gangsta's paradise"
JR Freeman: The PWS: Apex faithful are NOT shy about showing their support for our World Champion tonight, Alf!
Alfonso Banks: Well, can you BLAME them, JR?! She's only one of the hottest, most-attractive, sexiest, best-looking wrestlers on the PWS: Apex roster! I'd cheer for her too!
JR Freeman: Jeez, Alf, why don't you tell us how you really feel there, buddy?
Alfonso Banks: I want to have sex with Cleo Phillips, JR.
JR Freeman: *audibly sighs* Welp, I suppose I did ASK for it…
(The lights in the arena shut off. The crowd starts booing, as they know who - or rather, WHAT - is coming. Soon, as predicted, a solemn voice begins to softly sing the theme of The Mad God.)
"What will we do with a drunken whaler?
What will we do with a drunken whaler?
What will we do with a drunken whaler?
(The lights come back on, though dimmed, and ANTITHESIS is standing in the entranceway, clad in their signature devil masks. Sanders in the middle, with Dionysus on one side and Lyons on the other. Dionysus sits on the ramp and rocks slowly and subtly back and forth, Sanders rolls his wrists, making the pale man wince, and Lyons bounces in place from one leg to the other, looking like he's ready to fight.)
"Way hey and up she rises…
Way hey and up she rises…
Way hey and up she rises…
(The insane guitar and intense drumbeat of the song kicks in properly. Dionysus stands to full height, dwarfing his teammates and looking intimidating as ever. Sanders gazes around at the crowd with slow, methodical movements as Lyons cracks his neck and knuckles at the same time.)
Meg Reynolds: And their opponents… at a combined weight of 726 pounds… "The Feral Prince" Alexander Lyons, "The Mad God" Dionysus, and "The Lost Cause" Jonathan Sanders, AAAAAANTIIIIITHEEEEEESIIIIIISSSS!
(The song's lyrics start up again and the group starts walking to the ring at a constant pace, Sanders keeping his head down, Lyons threatening the fans, and Dionysus looking from side to side seemingly at random, his movements erratic and feral.)
"Stuff him in a sack and throw him over.
Stuff him in a sack and throw him over.
Stuff him in a sack and throw him over,
"Feed him to the hungry rats for dinner.
Feed him to the hungry rats for dinner.
Feed him to the hungry rats for dinner,
(The group gets to the ring. Each man climbs onto the apron on one side of it, with the big man stepping up to the one immediately next to the ramp, while Sanders and Lyons take the ones to either side.)
"Way hey and up she rises,
Way hey and up she rises,
Way hey and up she rises,
(The song immediately cuts to an intense guitar note, and Dionysus freezes in place, his head tilting to one side as it plays.)
"Shoot him through the heart with a loaded pistol…"
(At this, Sanders and Lyons make gun motions with their hands and 'shooting' at the crowd.)
"Shoot him through the heart with a loaded pistol…
Shoot him through the heart with a loaded pistol…
"Slice his throat with a rusty cleaver…"
(Dionysus makes a slicing motion across his throat with his thumb at this, and slowly steps into the ring, his teammates joining him.)
"Slice his throat with a rusty cleaver…
Slice his throat with a rusty cleaver,
(All 3 men remove their devil masks and toss them to the outside. Sanders immediately heads into the corner to sit, as Lyons does the same in the opposite corner. As they do this, Dionysus stands at the ropes and looks down at their opponents, a sadistic look on his face, framed perfectly by the other two members of ANTITHESIS in each corner. We hold on this tableau as the song fades.)
JR Freeman: What an entrance by ANTITHESIS.
Alfonso Banks: Oh, I'm sorry, that was an entrance? I thought it was a "Lord of the Rings" film.
JR Freeman: Hey, at least they know how to make themselves known.
Alfonso Banks: …For 8 fucking hours.
JR Freeman: That's not fair, Alf! …The Lord of the Rings trilogy clocks in at WELL over 8 hours! Especially if you watch the Extended Editions!
Alfonso Banks: You know I don't!
(As Alf and JR continue to bicker, the match proper starts off with Calaway and Lyons in the ring. The other members of each team retire to their respective corners, allowing the referee to ring the bell and start this one off. Lyons and Calaway immediately lock up, with Lyons getting the upper hand, using brute force and his weight advantage to push his opponent to the mat. He goes for a quick cover, trapping Alexandra's hands with his, but the Dark Queen is able to roll her way out of it, Dropkicking Lyons to get back to her feet. This knocks the Feral Prince briefly off balance, but it doesn't last long, and he hits Calaway with a discus back elbow as she moves to follow up, sending her to the mat once again. Lyons picks Calaway up this time, looking immediately for a Lionheart Kick, but Calaway dodges, grabbing his leg and using it to trip him up, making Lyons fall to the mat. Getting on top of her downed opponent, Calaway locks in a Boston crab! She wrenches on the hold, but soon it's broken up as Sanders runs into the ring to stop the submission by Dropkicking The Dark Queen, before being told off by the ref and begrudgingly leaving the ring, a scowl on his face.)
Alfonso Banks: Solid tag team work from ANTITHESIS here, you can tell each one has their partner's back!
JR Freeman: Much as it pains me to say it, Alf, I have to agree. One has to wonder what impact their cohesion will have on this contest tonight, since Alexandra, Hawk and Cleo are all rivals for the World Title belt right now!
Alfonso Banks: Thank you for summarizing the central conceit of this match-up, JR; I'm sure the fans at home who don't have eyes or ears will appreciate it.
JR Freeman: If they don't have eyes OR ears, how the hell are they watching television?
Alfonso Banks: I don't know, JR, but Helen Keller's not alive for me to ask her!
JR Freeman: D-do you think Helen Keller watched television?
Alfonso Banks: Why not, JR? There was fuck-all ELSE to do back then!
(JR openly facepalms as we cut back to the ring, where Alexandra is once again on the offense, running the ropes and hitting a curb stomp on her still-downed opponent, before going for a cover.)
(No, a kickout! Calaway starts with some mounted rights and lefts on the downed Lyons, as the crowd starts a dueling chant of "Let's go Alex!" and "Alex Sucks!" Hawk laughs at ringside, but the two legal competitors ignore the crowd and keep fighting, with Lyons holding his own and fighting from below, landing a few stiff shots on Calaway, finally getting her off of hims. She stumbles back and he uses the ropes for leverage to pull himself up. He grabs his opponent, locking her in position for a Brightroar DDT, but Calaway pushes his away, making him stumble back into the turnbuckle, where she runs at him, but he gets a foot up in time to kick her in the face, following up with a hard clothesline that nearly knocks Calaway out of her boots! The winded Lyons makes his way back to the ANTITHESIS corner, now, dragging Calaway along with him by her hair, then grins a sadistic grin as he slaps the hand of Dionysus. The monster also wears a grin as he steps into the ring over the top rope, and immediately goes on the offensive, grabbing Calaway by the throat and lifting her high in the air, as Lyons quickly leaps onto the middle rope and jumps onto her back, causing Dionysus to nail Calaway with a Chokeslam into a Lungblower from Lyons! The pair sneer proudly at their handiwork, with Sanders nodding on from the corner as the referee reprimands Alexander Lyons, demanding that he leave the ring. He gets directly in the official's face but does ultimately comply, raising his hands in a mocking peaceful gesture as he steps out through the ropes, leaving Alexandra alone in the ring with Dionysus. The Dark Queen immediately tries going all-out on the bigger man, hitting some punches, and even diving off the top rope for a bulldog, but she's caught by Dionysus before she can land it, and he take the opportunity to lift her over his head for a gorilla press, carrying her to the ropes and tossing her outside the ring!)
Alfonso Banks: Fuck ME, she must've been at least 10 feet in the air!
JR Freeman: And dropping that far!? She's gotta be hurting after that!
(The referee counts, trying to get Calaway back in the ring.)
(She starts to stir, but Sanders jumps off the apron and starts attacking her, hitting her with some stiff kicks!)
(Alexandra hits Sanders with a guillotine leg drop!)
(She slides into the ring just in time, then takes off at a run towards the Horseman of Death, sliding between his legs and leaping onto the big man's back to attempt to lock in a Rear Naked Choke. Dionysus struggles against the hold and runs backwards, slamming Alexandra against the turnbuckle, but the Dark Queen holds on tightly! Dionysus takes a few steps forward, clearly beginning to weaken, and then explodes backwards again, sandwiching her body between himself and one of the empty corners. Calaway briefly falters, releasing one arm from the choke, then tries to get it locked in again, but Dionysus throws himself backwards one final time and causes her to fully release him by slamming her back into the turnbuckle once again. Calaway falls to the mat and starts to crawl out of the corner, but the Mad God grabs her by one ankle, pulling her towards the ANTITHESIS corner and locking in a Single-Leg Boston Crab! The giant places one knee on the back of Alexandra's neck as he does this, holding her down and giving himself more leverage, but she doesn't give up, letting out a primal scream as she fights against the hold.)
JR Freeman: My god, the POWER of Dionysus is otherworldly!
Alfonso Banks: It may well be, JR, but Alexandra Calaway seems like she's got superhuman endurance and tenacity, refusing to back down against the big man.
JR Freeman: I completely agree with that, Alf; now if only your opinions could be as insightful as your wrestling commentary!
Alfonso Banks: What are you talking about, JR? I have GREAT opinions!
JR Freeman: Oh yeah? Name one.
Alfonso Banks: Well, for instance, I think that putting mayonnaise on french fries should be a crime punishable by LITERAL execution.
JR Freeman: I don't… do you even need me to TELL you what is wrong with that?
Alfonso Banks: No no, I understand. I should've included onion rings as well. Putting onion rings on french fries shouldn't be tolerated either!
(Meanwhile, back in the ring, Alexandra Calaway continues to writhe and struggle against the submission hold locked in by Dionysus, but her partners begin to cheer her on by stamping their feet on the mat and pounding the turnbuckle, Cleo Phillips leaning into the ring and reaching forward towards her partner. Hawk is less enthusiastic, clearly not thrilled about the prospect of getting in the ring with Dionysus, but he's paying lip service to it with some basic "Yeah, come on, you've got this" pep talk in a very unenthused and monotone voice. Alexandra spots this and her resolve steels, causing the Dark Queen to shout a primal scream again and push herself up with her forearms, crawling slowly and labouriously - the weight of the massive Dionysus clearly arduous to move - towards her corner to tag in the world champion. The Mad God feels this effort and tries to pull her backwards, but Alexandra begins to kick at him with her free leg, thrashing about in the hold until finally she's able to knock the bigger man off-balance well enough to wriggle free of the hold, leaping forward to tag Cleo's hand to MASSIVE ovation from the fans!)
JR Freeman: Calaway makes the tag! Cleo Phillips coming in like a house on fire!
Alfonso Banks: FINALLY! Now THIS is a match worth watching!
(Cleo does INDEED come in like a house on fire, LAUNCHING herself at Dionysus and firing wild rights and lefts into the larger man's face and neck with fury. This puts the giant on the backfoot and allows Alexandra to recuperate a little bit, and Cleo keeps the pressure on until she's able to get back to her feet. The pair exchange a glance with each other for just a moment as Ally begins to head back to the ropes, but at this moment Dionysus is able to seize the distraction to gain the upper hand, grabbing Cleo Phillips by the neck and lifting her into position for a Vertical Suplex. He holds the Champion in mid-air for a long moment, which proves to be a mistake, as Alexandra Calaway runs back out of her corner and shoots the leg of the Mad God, dropping him down to one knee. This allows Cleo to slip out of the hold and back to her feet, whereupon she grabs Dionysus by one leg, allowing Calaway to take the other, and both women throw their weight back and let out primal yells as they LIFT THE GIANT OFF HIS FEET AND PLANT HIM TO THE MAT WITH A TANDEM TEARDROP SUPLEX!)
JR Freeman: DIOS MIO! Cleo Phillips and Alexandra Calaway just SUPLEXED Dionysus! What a display of power!
Alfonso Banks: Power, will, teamwork and SHEER TENACITY, JR; these two women are CLEARLY going to stop at NOTHING to bring this force of nature to the ground, and I respect it!
JR Freeman: And I'm sure that respect has absolutely nothing to do with wanting to sleep with Cleo, am I right, Alf?
Alfonso Banks: What? I am OFFENDED, JR! I can respect a woman for her accomplishments without wanting to go to bed with her; I may be a creep, but I'm not a MONSTER!
JR Freeman: Well, at least you're aware that you're a creep. Savour the small victories, I guess.
Alfonso Banks: Exactly! …Wait…
(Back in the ring, Cleo heads back to the ropes, looking to hit the Milly Rock, but Dionysus stands up to full height before she can reach him, making Cleo stop in her tracks. She instead runs to the ropes, hopping off the top one to do a springboard crossbody, but is caught by Dionysus. The Mad God puts Cleo on his shoulders, in Torture Rack position, then tags in Jonathan Sanders, who climbs up to the top rope and jumps off at the same instant Dionysus tosses Cleo up for a Backbreaker, which connects at the same moment as Sanders nails her with a 450 Legdrop, completing the combination! Cleo falls off Dio's knee and slumps to the mat before the 7'1" behemoth steps over the top rope and stands back in his corner. Sanders grins his trademark wicked grin at the Body Snatcher, then goes for a cover…)
TH-NO! MIKE HAWK BREAKS IT UP!
(As soon as Hawk has broken up the pinfall, he immediately scrambles to get out of the ring, but Sanders grabs him by the leg. With a "Nope!", Hawk hops on one leg, jumping up and using the other to kick John in the face to escape the hold the Lost Cause has on him, before scurrying out of the ring and to the apron. Sanders walks towards Hawk, taunting him, which gives Cleo enough time to stand, using the ropes for assistance. She runs over to Sanders, who's in their corner, and forcefully whips him around to face her. She smacks him with a bitch slap.)
Jonathan Sanders: Thank you, Mommy, may I have another!?
Mike Hawk: Nope, don't like that. Don't like anything about that!
(Cleo takes this opportunity to grab Sanders in a headlock and drop him with a suplex! She immediately jumps at the opportunity to do some damage to the Snake of Eden, stomping on his right leg repeatedly. She grabs the leg, walking over to one of the corners where there aren't any partners, and brings his legs out of the ring with her, one on either side of the turnbuckle. She grabs Sanders' same right leg and slams it into the turnbuckle post one, two, three times, as the referee counts her out, getting to a 6-count before she slides back into the ring, grabbing Sanders' leg again, but Sanders kicks her off of him before she can do any more damage. He stands up, limping a little bit as he hops onto the ropes, BARELY hitting a springboard crossbody due to the injury, before nearly falling onto his opponent, instead falling onto his knees. He takes a moment to wallow in the pain, inhaling sharply and letting a disturbingly-genuine smile blossom across his face as he forces himself to put more weight on the injured limb, crying out in a mix of pain and pleasure as he forces himself back to his feet. He limps towards Cleo Phillips, grin widening further as the fans pelt him with boos and chants of "YOU'RE A FREAK!", but he simply ignores them and locks in The Great Depression on the fallen Cleo! This time, however, it's Alexandra who makes the save, running in and stomping on Sanders' hurt leg, having seen the damage Cleo (and Sanders himself) had done to it, which makes the Horseman of Plague break the hold and, from a sitting position, he glares holes through Calaway. The referee comes by to shoo her out of the ring, as Cleo stands back up, getting to her corner and tagging in Mike Hawk.)
JR Freeman: Oh, here we go! I think this is one part of the match that the fans have been dying to see!
Alfonso Banks: Have they, though? We've seen this pairing so much in the past year, we don't need it again!
JR Freeman: Will you stop being such a negative Nancy and just enjoy the moment!?
Alfonso Banks: Probably not, that doesn't sound like me.
JR Freeman: Well, a man can always hope, can't he?
(As Hawk is left in the ring across from Sanders, he gets in a fighting stance, as Sanders walks towards him, a sadistic look on his face. Hawk looks Sanders up and down, then shouts, audibly enough for the cameras to pick it up, "Nope!" And tags in Cleo, getting out of the ring and back onto the apron. Cleo, confused, steps into the ring and tags Hawk back in. Hawk steps back into the ring, then tags in Calaway. Calaway, having had enough of this bullshit, tags Hawk back in and hops off the apron. Hawk looks at Sanders.)
Mike Hawk: Fuck off, Nosferatu, I'm not fighting you again! I've fought you, like, 74 times already! No more!
(The crowd starts chanting "NOS-FER-A-TU!" at the Snake of Eden, eliciting a small grimace from him, as he looks at Hawk and the grimace immediately shifts to a sardonic smirk.)
Jonathan Sanders: As you wish.
(He walks over to his corner and tags in Dionysus, who steps over the top rope, glaring down at Hawk.)
Mike Hawk: Oh fuck! Oh shit! This is worse; this is MUCH WORSE!
(He goes to tag in his teammates, but neither of them are on the apron anymore. He sighs and, with a dejected "Fine", he squares up to the big man. Looking up at Dionysus, Hawk, to his credit, doesn't back down, instead trying to get as close as he can to eye-to-eye with The Horseman of Death. Dionysus grabs Hawk, TOSSING him across the ring like a ragdoll, getting massive airtime as he flies through the air. The Mad God walks over to the downed "President of Pro-Wrestling" and steps on his chest, causing Hawk to wail in pain. He keeps his foot in place and picks up the pressure, pinning Hawk's shoulders to the mat.)
T-NO! CALAWAY BREAKS IT UP!
(The Dark Queen hits the ring and fires a few stiff elbows into the back of Dionysus, causing the giant to round on her, a familiar ferocious grin coming across his face. The referee interposes himself between them, reprimanding Calaway and demanding she leave the ring, and Hawk, thinking quickly, uses this moment to hit a low blow on Dio, causing the big man to stumble and soon fall to his knees, clutching his crotch. Hawk capitalizes on this by grabbing the nearly-downed Dionysus and hitting him with the FYIA! He gets excited, immediately going to cover his huge-ass opponent, but is TOSSED off of him before even a 1-count can occur. Hawk stumbles, now on his feet, and falls backwards onto the ropes, one arm over the top rope as he contemplates everything that got him into this situation. He shouts "Still counts!" As he recovers. Dionysus stands, and Hawk runs at him, hitting a running kick to Dio's knee, making him buckle again, before running back to his corner and Superman-tagging in Alexandra, who had made her way back up to the apron, and Hawk scrambles out of the ring with a cry of "Oh thank fuck!")
Alfonso Banks: What a display! Not only of the massive power of Dionysus, but also of the wily survivability of Mike Hawk!
JR Freeman: I can't admit to liking either man, but I must say, that did make for some entertaining television.
Alfonso Banks: NOW who's the negative Nancy?
JR Freeman: At least I said something nice about them.
Alfonso Banks: Look, if I WANTED you to find flaws in my logic, I would join a debate club!
Alfonso Banks: Y…you ever just kinda SAY things, JR, and hope they'll make more sense on the way out?`
JR Freeman: Can't say that I have, but… that definitely explains a lot about you.
(Alexandra Calaway gets back into the ring fearlessly, sidling directly up to the enormous Dionysus and squaring off to face him… but before the pair can begin to brawl, Sanders' voice rings out.)
Jonathan Sanders: DIONYSUUUUS!
(The giant slowly turns to look over his shoulder at the ANTITHESIS corner, and the Lost Cause locks eyes with him before slowly shaking his head, then extends his hand into the ring.)
Jonathan Sanders: She's
mine
.
Alfonso Banks: Good, you can have her! I'll take Cleo!
JR Freeman: Alf! Seriously?
Alfonso Banks: I meant WITH her consent, obviously! Like I said, JR, I'm not a MONSTER!
JR Freeman: True enough, Alf, but pained as you may be to hear this, there are more important things to focus on right now than Cleo Phillips.
(Alf narrows his eyes in JR's direction.)
Alfonso Banks: …I don't believe you.
(Cutting back to the ring, Dionysus plods deliberately back towards his friendly corner, smirking a sadistic, knowing smirk as he slaps the hand of Jonathan Sanders. The self-proclaimed Plague of Professional Wrestling flashes a wicked, callous grin at Calaway as the pair square off together, netting a SURPRISING number of cheers from this sold-out Canadian crowd. Alexandra simply nods, rolling her shoulders and bouncing from foot to foot, not backing down an inch as the pair come face to face.)
JR Freeman: Alexandra Calaway seems ready to take on ALL comers tonight, Alf; she didn't even back away from Dionysus!
Alfonso Banks: Can you blame her, JR? You heard what that creepy head-voice thing said earlier today; "scorched Earth". She's going all or nothing here tonight, consequences to the rest of us be damned!
(This does indeed seem to be true, as despite the fatigue clearly written on her face, Alexandra opens up this exchange by NAILING Jonathan Sanders with a STIFF right elbow. Sanders reels back, then inhales sharply and grins, responding in kind with an elbow of his own! Alexandra takes a few steps back but grits her teeth and balls up her fists, turning back and hitting Sanders with ANOTHER vicious elbow! The Lost Cause cries out in a mixture of pain and sheer delight, firing back with another elbow of his own, before the two end up in a much more rapid exchange of rights and elbows as they lock up at the shoulder. It's ultimately Sanders who takes the upper hand, however, using a momentary distraction to rake the eyes of Alexandra with one hand, then ignoring the referee as he admonishes him for the act and following it up with a STIFF Shot of Serotonin Pele Kick! He then sprints his way towards the corner, leaping up to look for a Total Eclipse of the Soul, but Alexandra gets her knees up, causing the Horseman of Plague to crash and burn! Ally then gets slowly back to her feet, spurred on by her teammates clapping, then takes hold of Sanders by the hair and drags him towards that same corner. She climbs up to the second rope, pulling the Lost Cause along with her…)
Alexandra Calaway: Scorched Earth…
(And she lifts him up for the APOCALYPSE! APOCALYPSE FROM THE SECOND ROPE! Calaway goes for a cover, and…)
THR-NO! LYONS BREAKS IT UP!
(The Feral Prince lives up to his nickname, beginning to fire VICIOUS kicks and stomps into the back of the downed Alexandra Calaway, who manages to fight her way back to her feet, until she's overwhelmed by the sudden appearance of Dionysus. He lifts Calaway up looking for the Loaded Pistol, but Cleo Phillips hits the ring and Dropkicks Lyons INTO Dionysus, causing him to stumble backwards and let Calaway go! As she hits the mat, the Dark Queen rolls through and gets back to her feet, turning her attentions back to Jonathan Sanders on the ground. She lifts him back to his feet looking for another finisher, but the Lost Cause begins to fight back, firing rights and lefts into her midsection as Cleo Phillips tries to take on Lyons and Dionysus single-handedly. She inevitably ends up overwhelmed, at which point Mike Hawk visibly and audibly sighs from his corner, followed by…)
Mike Hawk: Fuck, alright, I guess THIS is a thing now.
(Hawk steps through the ropes and throws himself into the fray, Shoulder-Tackling Dionysus into the corner before following up with a Clean Up on Aisle YOUR FACE!, as Alexander Lyons drops Cleo with a Brightroar. Calaway and Sanders are continuing to brawl, the pair spilling through the top and middle rope to the outside but continuing to trade blows unimpeded, and at this point the referee just gives up all hope of getting anything under control and calls for the bell, ruling this gonzofest a no-contest!)
JR Freeman: The referee's calling it! Can ANYONE manage to get these two teams under control?!
Alfonso Banks: Y'know who could? Ghostbustonio.
JR Freeman: Who in the flying love of fuck is Ghostbustonio?
Alfonso Banks: You know, his name's Antonio? He busts ghosts?
JR Freeman: Are… are you thinking of the Ghostbusters?
Alfonso Banks: …Maybe? Are any of them named Antonio?
JR Freeman: Alf… when I ask this question, just know, you're my friend, and I mean this in the best possible way… how the FUCK does your mind work?
Alfonso Banks: If I knew that, JR, I could be an award-winning psychologist.
(As the announcers continue to bicker about a legally-distinct character that may or may not exist, the referee calls for the bell one more time, and soon we hear the voice of Meg Reynolds again.)
Meg Reynolds: Ladies and gentlemen, the referee has officially declared this match a No Contest!
(The audience is mixed about this, but overwhelmingly they start chanting "LET THEM FIGHT!" and "FIGHT FOR-EV-ER! *Clap clap clapclapclap* as the carnage continues both in and outside the ring, with both sides having retrieved weapons at this point and just absolutely going to town on one another, neither team giving a single inch of ground.)
WINNERS - Match Thrown Out
---
JR Freeman: Dios Mio, Alf! Now there's WEAPONRY involved?! This situation just keeps on getting more dire!
Alfonso Banks: Tensions are certainly running high going into Dishonoured, JR; I can't WAIT to see what kind of action that show has in store for all of us!
JR Freeman: Neither can I, Alf; it's sure to be a gripping night of high-octane entertainment indeed!
Alfonso Banks: Hold that thought, JR; looks like THIS night isn't quite over just yet!
(As if on cue, Max Delgado and Richard Rider come pouring out of the curtain, apparently ALSO engaged in a fistfight as they brawl their way down the ramp towards the ring. They're swiftly followed by Max's girlfriend, Carmen, who joins in the assault on Rider by kicking and pulling his luxurious hair. Soon enough, Dan and Audrey Russow hit the ring as well, apparently to try to break things up, but they end up being pulled into the chaos as Alexander Lyons spits in Daniel Russow's face and Dan responds by smacking his head into the turnbuckle. Alexis Makarios, Gracie Lopez and Jennifer Carpenter-Lopez-Makarios hit the ring next, trying to argue some sense into everyone and break things up, but soon THEY get pulled into the fighting as well, and within minutes the entire locker room has emptied as old grudges and frustrations boil over, leading to a MASSIVE brawl that practically fills the ringside area of the Canadian Tire Centre! The fans are eating it up, chanting "FIGHT FOR-EV-ER!" and "P-DUB-S! P-DUB-S!" as officials struggle in vain to get some semblance of control over the carnage that's unfolding. It appears Dylan Howell has even dragged Devon Ryder's lawyer, Horace McLaughlin, back out to the ring and is in the process of throwing him through a table set up in the corner! The madness continues as bells ring and referees wave their arms uselessly like a police officers armed only with a whistle, and the announcers pipe up one more time.)
JR Freeman: Dios mio! It's absolute CHAOS out here, Alf! I swear the entire locker room's been emptied!
Alfonso Banks: That's because it HAS, JR! Look, even Slappy's getting in on the action!
JR Freeman: I think you mean "Slaps McKills", Alf!
(Indeed, it seems Slaps and Jesse Russow have found their way into the brawl as well, and are currently engaged in the Spider-Man "pointing" meme with Jonathan Sanders and Dionysus. This relatively-peaceful exchange does not last long, however, as the two teams immediately begin to trade blows and the other members of ANTITHESIS and their opposing team get involved as well! Things don't seem to be getting any better as the PWS: Apex Logo appears at the bottom of the screen and we go off the air with a massive, unhinged brawl in and around the ring.)
JR Freeman: Well, that's all the time we have for you tonight, folks! Thanks so much for inviting us once again into your homes, and tune in again in two weeks' time for the follow-up to this unbridled chaos that is sure to be PWS: Apex Presents DISHONOURED, live from the Rogers Centre in Toronto, Ontario Canada!
Alfonso Banks: HOPEFULLY we'll have this mess cleaned up by then! Goodnight!