Post by Star Stormz on Sept 15, 2022 0:31:30 GMT -5
Montreal, Quebec, Canada - Centre Bell Arena




(We open, as the opening video package for Riot airs, before we cut to inside Centre Bell Arena, as "Trials" by Starset is blaring over the sound system, and the live crowd is rocking along, as we are greeted by JR and Alf.)
JR Freeman: Hello, and welcome to Montreal!
Alfonso Banks: What a show we have tonight! I'm ready for it!
JR Freeman: As am I. We are on the road to Dishonored, and we have a great night of action here for you. We're going to start things off with Alexandra Calaway taking on Violet Amelia Holt!
---
Singles Match
Alexandra Calaway vs. Violet Amelia Holt
(As the bell rings, Amelia Holt shows her aggression, by taking down Alexandrea Calaway. Holt doesn't seem to be backing away from the ring veteran but Calaway starts to fight back, but with a thumb to the eye, Holt rolls Calaway up for a pin attempt.)
1……..
(Calaway refuses to stay down for that pin attempt.)
JR Freeman: I think Alex Calaway was thrown off with Holt's aggressiveness.
Alfonso Banks: Holt came in with a plan, and she's using it to her advantage.
(Back and forth they go after the pin attempt, Holt stays in the fight for as long as she can by trying to reverse anything Calaway tries to do but Calaway powers through anything Holt does. The momentum starts to swing Calway's way as the match progresses.)
Jr Freeman: This match is starting to slip through the fingers of Holt, she needs to step it up.
Alfonso Banks: Calaway isn't stupid, she knows how to control the match. I mean look at when she threw her supposed friend, Jenn over the top rope in that battle royal? And hasn't talked to her since. She wants to hurt Amelia and break her spirits.)
(Calaway dominates Holt to a point where the ref has to check up on her, but she doesn't give up. She tries to fight back but each punch that she throws has no impact. Calaway starts to play with her prey like a dominant animal would do to its weaker pray. After playing around, Calaway hits the "Apocalypse" on Holt. She lightly pins her.)
1………
2………..
3!
Jr Freeman: Alexandra Calaway played around with Holt for a little bit there, thank god it didn't cost her the match.
Alfonso Banks: She had that match in command there, but Calaway picks up a win here.
WINNER - Alexandra Calaway
---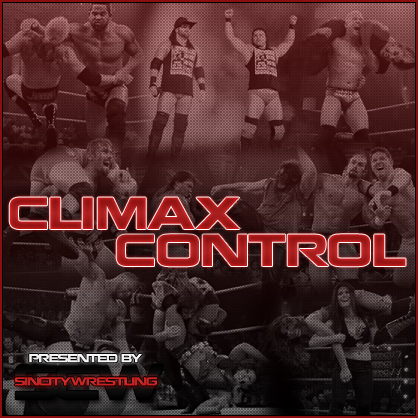 SCW Climax Control
Locale: Las Vegas, Nevada - Gold Coast Casino
DATE: Sunday - 09/18/2022
---
(We come back from the commercial, as we see Claire Anderson standing by in the backstage area.)
Claire Anderson: Ladies and gentlemen, please welcome my quest at this time, Max Delgado.
(There is a mixed reaction from the crowd, as Max steps into the shot.)
Claire Anderson: Thank you for taking-
Max Delgado: Hold up just one second. See now, if ole Landerson and his bitch ass daughter can go around challenging for title shots, why can't I? I mean I beat both of them in that ring, so what's to say I don't deserve a title shot? Huh? So yeah, if little Aaliyah wants to challenge for the world title, then fuck it…Imma challenge Alexis for her United Title. I'll get in on that United title match at Dishonored. Who cares if it's already set, Landerson sure don't seem to care about things like that.
(From off screen, we hear a voice.)
Voice: You can't do that!
(In walks Richard Rider.)
Richard Rider: I'm a former tag team champion! If anyone is getting a title shot around here, it should be me! I know I may not have the best record, but I deserve it!
Max Delgado: Bitch, please!
(Just then, a door down the hall opens, and out walks Max Sheppard, furious at the situation. He comes in yelling at both superstars.)
Max Sheppard: You think either one of you have done ANYTHING to deserve a title shot!? Seriously?
Max Delgado: Well if you're gonna let the special-ed kids run around doing it, why the fuck not!?
Max Sheppard: Just because they WANT that to happen doesn't fucking mean it's going to! You know what? No. You two want a match? Fine. Next week you two are gonna team up to face the Landersons in a tag match, and you better hope you win, because the losing team, as long as I am a part of PWS: APEX will NEVER be allowed to challenge for ANY title! Now, get out of my sight!
(Delgado steps up into Max's face, and the two stare each other down, as we cut away.)
---
Singles Match
Ace Michaels vs. Michael Rathedon
(The match starts out with both men standing toe to toe. Rathedon smirks at Michaels before taking the first swing and sucker punching him! The two begin to brawl and take each other to the mat where the match stays for several minutes.)
Alfonso Banks: This match seems to be very ground and pound.
JR Freeman: It's almost like these two just wanna beat the shit out of each other.
Alfonso Banks: Do they even know each other enough to hate each other this much?
(Michaels slides out of the ring and is followed by Rathedon. The two men continue to fight outside the ring as the referee starts the count.)
1...2...
(They continue on, ignoring the referee)
3...4...5...
(Rathedon whips Michaels into the barricade)
6...
(He backs up and rushes at him, but Michaels catches him in time to flip him over the barricade! He then rushes for the ring.)
7...8...
(Rathedon realizes what is going on and hops over the barricade!)
9...
(He slides into the ring.)
10??? No!
(Rathedon successfully got back into the ring in time to break the 10 count. Micheals looks annoyed as he grabs for Rathedon's head and lifts him to his feet. As they get eye to eye, Rathedon elbows him in the gut, puts him in position and quickly drops a "Ruby Oni", slamming Michaels to the mat.)
JR Freeman: RUBY ONI!
Alfonso Banks: I don't think Ace can kick out of that!
1...2..3!!!
DING DING DING
WINNER - Michael Rathedon
---
(We cut to the back, where we see Josiah Cena and Max Sheppard in David Shane's office, as David is sitting at his desk.)
Josiah Cena: Look, in the past month you have gotten rid of two really big players in management, and I don't really think it's fair that Max and I have to run things on our own without the help we have become used to. Star and Laura did quite a lot around here, and you can't just expect us to pick up the slack on our own.
Max Sheppard: Yeah, I mean…like Josiah said, it really isn't fair.
David Shane: Guys, I get it. And don't worry, I was never planning on leaving you on your own. I've already gone and got somebody to help out. He actually has some management experience in PWS.
Josiah Cena: Oh?
Max Sheppard: Who is it?
(Just then one of the doors opens, and in walks a familiar face, someone we haven't seen in quite some time.)
David Shane: Guys, say hello to the new commissioner, Manny Martinez!
Manny Martinez: Hola!
Josiah Cena: Uh…hey…
Max Sheppard: I see…hello Manny.
Manny Martinez: Long time, my friend.
Max Sheppard: Yes, it has been.
(We cut back to ringside, as there is an uneasy tension in the room. We cut back to JR absolutely losing his shit.)
JR Freeman: I KNEW IT! I KNEW HE WAS UP TO NO GOOD! MANNY MARTINEZ!? REALLY!? THAT GUY IS EVIL! EVIL I TELL YA! I KNEW THERE WAS SOMETHING MESSED UP GOING ON HERE. I CAN'T WAIT TILL STAR COMES BACK!
Alfonso Banks: JR! PLEASE! LET IT GO!
---
(The camera cuts backstage to a side-by-side shot of Carmen Rodriguez with Max Delgado on one side, and Ace Static on the other.)
JR Freeman: Well, up next it's our double debut match, as Carmen Rodriguez takes on Ace Static!
(Carmen gets a kiss from Maxk, before we cut back to ringside.)
---
Singles Match- Double Debut
Ace Static vs. Carmen Rodriguez
(The match starts brutal and violent, as both competitors go at it. Carmen has Max Delgado with her at ringside, but he has to watch helplessly, as she goes to war with Static. The two pull no punches, as they literally try to beat the hell out of each other. There's a few times the ref has to step in and break them up when they get into the corners. After a bit, Static starts to mount an advantage, as he continues to brutalize Rodriguez, Delgado screaming on the outside.)
Alfonso Banks: I almost feel bad for Max…having to watch his girl get dominated like this.
JR Freeman: Carmen is going to need to get back in this, and quickly.
(A turning point inthe match comes when Static goes for a clothesline in the corner, but Carmen manages to slide through the ropes, and flips up and connects with a kick that sends Static staggering back. Carmen wastes little time, as she gets out on the apron, and leps off to deliver a beautiful springboard cutter.)
JR Freeman: Oh my! Springboard Cutter! That's a Max Delgado move!
Alfonso Banks: C'mon Carmen! Cover him!
(The move takes a lot out of Carmen, as Max yells in approval from the outside. However, before Carmen can capitalize, Static manages to roll out of the rin, and down to the outside. After a moment, Carmen follows him, but the second she sets foot on the ground, Static grabs her and thrusts her head first into the barricade! He picks up the limp body of Rodgriguez, and tosses it back into the ring, as he shouts at Max to back the fuck off. He gets back into the ring, waiting for Carmen to get to her feet, signaling for the Gag Order Facecrusher.)
JR Freeman: I think it's about to be over here.
Alfonso Banks: If he hits this…it will be.
(Carmen gets to her feet, and Static goes for the move, but Carmen has the awareness to drop down, and roll up Static for a pin attempt.)
1…
2…
3!!
(Everyone is shocked by the result, as Max on the outside jumps for joy. Static gets to his feet, and is absolutely livid. When Carmen turns from having her hand raised, he drops her with the Gag Order, and backs into the corner.)
JR Freeman: Oh God! He's going for the stomp, or the punt! Someone get in there!
(Static charges, prepared to kick Carmen's head off her shoulders, but at the very last second, she gets pulled out of the ring by Max Delgado, obviously saving his girl. He pulls her into his arms, as he starts backing up the ramp, yelling at Static, who is in the ring shouting back, seething. Before the cameras cut away, we cut to Max and Carmen, as they share a passionate kiss as he carries her to the back.)
WINNER - Carmen Rodriguez
---
Claire Anderson is backstage with World Champion Cleo Phillips. She keeps a friendly smile, as Cleo wears the championship with confidence, the crowd can be heard cheering for the champ.
Claire Anderson: Hello PWS faithful, I am here with our World Champion Cleo Phillips, who we now know will have her first defense in a triple threat match against Mike Hawk and Alexandra Calaway at Dishonored. How are you feeling tonight champ?
Cleo Phillips: I'm doing good, as always, c'mon now I'm the World Champion, it can't get much better than that.
Claire Anderson: Well, this means you can lose your championship, without getting pinned or made to submit.
Cleo Phillips: Wouldn't that be rich? I know if Mike or Alexandra want to be respected as a champion, they'll defeat the CHAMPION and nobody else, and I promise nobody is taking this championship away from me.
Claire Anderson: As confident as ever I see.
Cleo Phillips: Always, I've defeated both Hawk and Calaway one on one, and both were some of the toughest fights in my career, taking them both on at once is going to be no walk in the park, but I've walked through the valley of the shadow of death, and I fear no evil. I worked too hard to get where I'm at and I'll be damned if it's taken from me so quickly. I can't promise to be champ forever, but I can damn sure promise to try.
Claire Anderson (laughing): Well, that certainly would be one for the record books.
Cleo Phillips: Mike Hawk has been clawing his way up for a long time, and Alexandra is possibly the fastest rising star in PWS history, few have made an impact in as short of a time as her. But I'm of a different breed, and I've been on a different level recently. I said I was ready for anything, and I meant it. It's gonna be a war at Dishonored, and when the dust settles, I will still stand tall as PWS World Champion. Team Cleo is on top, and we're going to remain there for a long time. BET.
Cleo flashes a peace sign to the camera, and exits camera left.
Claire Anderson: Well, her words were few, but direct. That was out World Champ Cleo Phillips everyone.
---
---
Singles Match
El Landerson vs. Slaps McKills
("Booyaka 619" hits the PA as El Landerson comes popping out onto the stage to the cheers of the fans as he kneels and says a quick prayer.)
JR Freeman: He better pray. He better pray with every fiber of his being.
Alfonso Banks: Can we just talk about the fact that…we're ACTUALLY going to see this nostalgia act Slappy McGoo again!?
JR Freeman: He's Slaps McKill now.
Alfonso Banks: What's the difference?
JR Freeman: …why don't you go ask him?
Alfonso Banks: NO! He'll throw me through a wall!
JR Freeman: Aaaaand there's the difference dipshit!
(Landerson is hitting the ropes in the ring when the lights in the arena go out, as drumbeats and scratches as a whirling echo uprises into a vicious drumbeat, familiar to the PWS Apex Universe as Davey Havok's voice begins snarling.
LOVE!
YOUR HATE!
YOUR!
FAITH LOST!
YOU!
ARE NOW!
ONE!
ONE OF US!
(Pyro doesn't even blast just blinding lights come flashing back on in the arena and we see Jesse Russow laughing maniacally pacing around a Terminator posed Slaps McKill who slowly raises his head and looks towards the horizon for Landerson's gaze as "Miseria Cantare" by AFI continues to play.)
...AS WE ALL FORM ONE DARK FLAME!!!!
...INCINERAAAAATE!!!
JR Freeman: This is going to be manslaughter. What did we see Slaps McKill do last week?
Alfonso Banks: Beat a mother with another mother?
JR Freeman: EXACTLY and I don't exactly like the middling luchadors chances here tonight.
(Slaps backs into his corner…never taking his gaze off of Landerson. Jesse Russow jumps out onto the apron but before he jumps down…the bell rings.)
DING
Jesse Russow: EXTERMINATE.
(We see Slaps crane his neck with a sorrowful, pained glare as he runs both hands pulling at his hair screaming at the visibly shaken Landerson standing across the ring. Slaps charges like a mad rhino at Landerson who dropkicks Slaps knee making him stumble and go face first into the second turnbuckle as he rolls along the ropes.)
JR Freeman: Wait a minute! WAIT A MINUTE!
Alfonso Banks: CALL YOUR SHOT MAN!
(Landerson has already rebounded and swung through with the Landerson 619 as Slaps falls backwards as Landerson springs to the top rope shaking his arms.)
JR Freeman: HE COULD ACTUALLY DO THIS!
(Landerson hits the big Frog Splash!)
O-
(Before the referee can even raise their hands to drop it for a one count, Landerson has literally been bench pressed so high into the air he actually lands back on the top rope as Slaps surprises everyone with a rope-assisted kip-up as Landerson preps again…)
Alfonso Banks: He's still got a shot!
(Landerson leaps off looking for the Landerson West Coast Pop but unfortunately for him THIS time, the big man doesn't go. Instead he pops him up moving him into a modified position PLANTING Landerson with the TPK!)
1-
2-
…-3!!!
Meg Reynolds: Here is your winner, SLAPS MCKILLS!
(Landerson IMMEDIATELY bails from the ring as Slaps continues to rampage until Jesse jumps up on the apron screaming "DISPEL!" and Slaps drops to his knees and looks like he might start crying until he rolls out of the ring and storms to the back.)
WINNER - Slaps McKills
---
PWS: APEX DISHONORED
TUESDAY, OCTOBER 11, 2022
SCOTIABANK ARENA - TORONTO, ONTARIO, CANADA

Main Event
PWS: APEX World Championship Match
Triple Threat Match
Cleo Phillips © vs. Alexandra Calaway vs. Mike Hawk

PWS: APEX United Championship
Singles Match
Alexis Makarios © vs. Jennifer Lopez-Makarios

PWS: APEX Collateral Damage Championship
Singles Match
Devon Ryder © vs. Dylan Howell
---
Main Event
Singles Match- Non Title
Alexis Makarios vs. Alexander Lyons
(The sounds of "Bow Down" explode throughout the arena, as Alexander Lyons appears on stage, he gets to one knee and points to the sky, as Pyros shoot off all around him. He walks, briskly down the ramp, badmouthing fans at ringside along the way, once ringside he hopes up on the apron and enters the ring, where he does his kneel and point up pose in the ring as more pyros go firing off.)
JR Freeman: And here we go, the highly anticipated match up between Alexander Lyons and Alexis Makarios.. Our Main Event!!!
Alfonso Banks: If my money is on anyone in the match, it's on Lyons.
JR Freeman: I wouldn't sell our United States Champion short. Makarios is a strong woman and she stops at nothing to prove that.
Alfonso Banks: Who even are you? The hell…
(The lights dim as the opening chords of "MZ Hyde" by Halestorm hit. Strobe lights start to flash at the top of the ramp as Alexis Makarios comes out from behind the curtain and stops at the top of the ramp. The arena fills with a chorus of "FIRECRACKER". She smiles big as she looks around, taking it all in.)
Meg Reynolds: And his opponent, from Sydney Australia, she is the Aussie Firecracker… ALEXIS MAKAAAAAAARIOS!!!
(The lights brighten back up as Alexis starts making her way down the ramp, high fiving fans as she goes. Once she gets to the bottom of the ramp she stops and motions for the fans to keep going. As they do, she slides into the ring under the bottom rope and hops to her feet. She goes to a corner and hops up on the ropes posing for the fans. She hops down and goes to the opposite corner and does the same. She then goes to the middle as she awaits the referee.)
DING
DING
DING
(The bell rings and the two lock up. For a moment it looks as if Makarios might get the upper hand, using a hip toss to take Lyons to the mat. She goes for a quick pin and Lyons reverses it into a quick pin, which only gets a one, before the two scramble back to their feet. Makarios jaw jacks with Lyons for a few moments before he reaches up to shove her back, but before he can she side steps him and catches him with a quick lariat.)
JR Freeman: That's how you stop an argument.
Alfonso Banks: If you are Makarios anyways.
JR Freeman: What's your problem tonight? You are like a wet mop.. Old and stale.
Alfonso Banks: Why are you being such an ass kisser? Makarios.. Calaway.. Which one man.. Make up your mind. Horn Dog.
(As soon as they are both back to their feet, Lyons goes on the attack, he attempts to hit Alexis with a discus punch, it connects and she reels back, hitting the top rope. He advances, driving her into the corner, before hitting her with stalling suplex. Alexis hits the mat hard and tries to catch her breath. Meanwhile Lyons is climbing to the top turnbuckle to nail Alexis with a sunset flip and attempts his first roll up.)
JR Freeman: And there's an attempted pin from Lyons.
Alfonso Banks: But at the last second Makarios kicked out. This is going to be a nailbiter for sure.
ONE
TWO…
KICK OUT
(Alexis kicks out and rolls out of the ring to collect herself. Lyons is yelling for her to get back into the ring. She moves towards the ropes and he attempts a suicide plancha and she steps out of the way quickly. Grabbing him she rolls him back into the ring and waits for him to start making it back to his feet. Once he does she hits him with a diving metora before attempting her first pin.)
JR Freeman: Makarios with a pin attempt.
Alfonso Banks: Is she going to get it?
ONE
TWO…
TH…
KICK OUT
JR Freeman: Oh come on ref, are you blind? She had that!!!!
Alfonso Banks: NO!!! HAHA!!! Sucks to suck doesn't it?
JR Freeman: Shut up and watch the match…
Alfonso Banks: No.
(Lyons manages to drag himself up by the ropes, Makarios is still trying to figure out how he managed to muster the strength to kick out of that. She slaps her fists down on the mat and stands to her feet, just in time to be caught with a Lionheart Kick, before he scrambles to lift her up, hitting her with Greetings from Macedonia. And then teasing a pin before locking her into the Gordian Knot. He watches as the referee checks on Makarios a few times. The fans really get into it cheering for her to get out of it. Both competitors are showing fire tonight.)
JR Freeman: He might actually have Makarios' number tonight.. This is a close one. Neither one of these competitors want to give up.
Alfonso Banks: Thank God someone would finally knock her off her pedestal.
Just as it looks like he might have it locked in, she musters everything she has left in her. She lifts her leg, breaking his legs wrapping around her before she flips over and punches him in the face over and over, trying to break the hold before she passes out. He lets go and she rolls away, finally catching her breath, slowly pulling herself up by the ropes in the corner. She see's Lyon's stirring and quickly climbs the turnbuckle. Once he's to his feet she hits him with Greetings From Australia and quickly goes for the pin.)
ONE
TWO
THREE
Meg Reynolds: And your winner, the Aussie Firecracker… ALEXIS MAKAAAAAAARIOS!!!
JR Freeman: SHE DID IT.. MAKARIOS WINS!!!!
Alfonso Banks: THE HELL! No.. this was rigged. Come on.. There's no way she got out of the Gordian Knot. No one ever gets out of that…
JR Freeman: Alexis Makarios just did!
Alfonso Banks: What in the.. Maybe something's wrong.. Are we in an alternate universe..
JR Freeman: Well Mercury is in Retrograde again..
WINNER - Alexis Makarios