Post by Josiah Cena on Jul 1, 2022 0:24:51 GMT -5
PWS:APEX Presents: Tuesday Night Riot!
Wells Fargo Center; Philadelphia, PA
(The PWS: APEX logo flashes across the screen, before the opening video package for Riot begins to play. After the video package ends, we join the live crowd inside Wells Fargo Center, where Max Sheppard is already in the ring.)
Max Sheppard: Hello, and welcome to PWS: APEX RIOT!
(The crowd cheers.)
Max Sheppard: I really hadn't planned on being on the show tonight, but due to extenuating circumstances, here I am. Can't complain too much, as it's always great getting to see all of you great fans, especially here in the great city of Philadelphia!
(The fans cheer.)
JR Freeman: Max Sheppard with the cheap pop!
Max Sheppard: So, I won't waste too much of your time, I'm just out here to address a situation. Due to personal and professional differences, Sierra Williams has elected to vacate the World Championship, and is no longer with the company. As a result, we are needing a new contender to fight for the title at Rise to Glory. Now, we recognize that Cleo has earned her opportunity to challenge for the title, so we are not taking that away from her. That being said, we do need someone for her to face, and that's what I'm here to announce.
(The fans buzz with anticipation.)
Max Sheppard: Next Riot, when we are live from Barclays Center in New York City, we are going to be hosting a battle royal, with the winner going on to Rise to Glory to face Cleo Phillips for the PWS: APEX World Championship!
(The fans cheer.)
Max Sheppard: Anyone who wishes to sign up for the battle royal can come see me throughout the night, as I will be announcing the full iist before the show ends. Now that that's out of the way, let's get the show started! We've got a great one for you, and we're starting it off with Alexandra Calaway taking on Stacy O'Brien!
("Ladies and Gentlemen" begins to play, as Max makes his way backstage.)
---
Singles Match
Alexandra Calaway vs. Stacy O'Brien
(The match starts off with Calaway grabbing O'Brien and dropping her with a DDT and going for a quick roll up pin.)
1…. Kickout!
Alfonso Banks: Alexandra is gonna have to do more than that!
(Calaway keeps the pressure on for a minute or two, not letting O'Brien get more than one or two moves in on her. After about 3 minutes, Calaway hits a Fallen Angel and goes for the pin)
1…2…4!!!
DING DING DING!
JR Freeman: Alexandra Calaway successful tonight, and quite impressive!
Alfonso Banks: Stacy O'Brien didn't stand a chance…
WINNER - Alexandra Calaway
---
[PWS: APEX 2022 Video Game
In Stores Now!
---
(The camera cuts to an illuminated podium on a small stage. The room falls into hushed whispers as the self-proclaimed "President of Pro Wrestling" Mike Hawk makes his way behind the podium. He's dressed in a full black suit with a blue and green checkered tie. He looks out at the crowd.)
Mike Hawk: Ladies and gentlemen, in these trying times, with recent events that have been happening in the world, particularly in the U.S., I feel like I just need to say a few words.
(The audience watches on in anticipative silence. Hawk clears his throat as he looks directly down the camera.)
Mike Hawk: A few words.
(He pauses for just a second, looking back out at the audience.)
Mike Hawk: There, I said it.
(The audience politely applauds as he walks off-stage, with "Hail to the Chief" playing as he does. The camera then cuts back to JR and Alf, the latter of whom is actively standing at attention for the "President", but quickly sits as JR informs him that the segment is over.)
---
Handicap Match
Legion vs The Dream Team
(The match starts off with both members of the Dream Team, Kai Fowler and Jackson Gray, trying to double team Legion. This goes on for a moment before gaining control and sending Kai to their corner.)
Jr Freeman: Dream Team trying to take advantage right from the start!
(Kai and Legion fight back and forth for a few minutes before Kai tags out to Jackson. The ref acknowledges the tag. Mrs J at ringside is cheering on Legion, who wastes no time taking advantage. She nails Jackson with a Shattered Realms. Before going for the pin, she rushes and knocks Kai off the apron. She goes back and drops for the pin.)
1…2…3!!!
DING DING DING!
Alfonso Banks: Damn! Legion tore through them like NOTHING!!
WINNER - Legion
---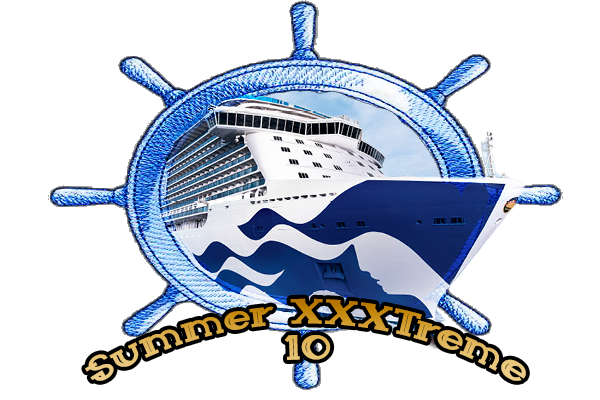 SCW Summer XXXtreme X
Sunday, July 10, 202 Aboard the Sun Princess Cruise Ship
---
(The scene fades back in from commercial with Star Stormz in the back talking to a stage hand)
Star Stormz: What do you mean "he's not here"

Stagehand: Exactly that. He's not here. No one has heard from him, he isn't answering calls or text, no one has seem him… he didn't check in when he arrived… if he even did. No one knows.
Star Stormz: And why am I JUST NOW hearing about it?
Stagehand: We thought he would turn up…
(The stagehand shrugged, Star sighed. It was at this exact moment that Richard Rider comes out of the men's room with a small travel bag in his hands. Star sees him)
Star Stormz: YOU!
(Rider, startled, drops the bag.)
Richard Rider: Y…yes?
Star Stormz: You got your wrestling gear in the arena?
(Rider nods)
Star Stormz: Good. Go get changed. Now. You are filling in for Mad Dog in the triple threat. You have 2 minutes. Go.
Richard Rider: I uh… ok…
Star Stormz: GO!
(Rider runs off, leaving behind his bag. Squid-Man casually walks up from down the hall and picks it up. He looks at Star and the stagehand who look confused.)
Squid-Man: I am a Squid.
(He then walks off like nothing as the camera cuts to a commercial)
---
Triple Threat Match
Michael Rathedon vs. Richard Rider vs. Alexander Lyons
(This one begins like a Mexican Standoff in an old Spaghetti Western, truly the only thing it's missing is the iconic theme tune from "The Good, the Bad and the Ugly". The three competitors stare each other down, bodies tensed and at the ready, not a single one willing to make the first move and potentially give ground. It is, eventually - and, perhaps, inevitably - Richard Rider who finally makes a move, diving forward under the bottom rope as his opponents swing wildly towards him. They end up fistfighting with each other while Rider watches on, evidently hoping his opponents will wear each other down and he can pick off the remains. It seems he will not be so lucky, though, as the pair's brawling soon spills over to include him, with Alexander Lyons pulling a Baseball Slide Dropkick between Michael Rathedon's legs to nail Rider on the outside. The ANTITHESIS member grins, then manages to floor Rathedon with a Discus Lariat as he approaches from behind, with an almost-preternatural sense.)
JR Freeman: I hate to praise the man, but what ring awareness from Alexander Lyons! The man keeps his head on a swivel, NOTHING gets by him!
Alfonso Banks: Well, YOU'D be on-edge too, JR, if you had to learn to avoid constant long-winded Jonathan Sanders sermons around every corner!
JR Freeman: Fair point, I really can't argue there.
(Lyons presses the advantage for the midpoint of the match, first rolling outside to brutalize Rider by smashing his limbs against ring posts and attacking them with weapons. He finishes with The Siege onto the barricade and rolls Rider's body back into the ring for a cover…)
ONE!
TWO!
NO! RATHEDON BREAKS IT UP!
(He's recovered enough wherewithal now to take the fight to Lyons, and the two GO AT IT in the last third, trading suplexes and stiff, high-impact strikes in a fast-paced yet surprisingly technical style. It's ultimately Rathedon who gets the upper hand, ducking the Greetings from Macedon and backdropping Lyons over the ropes to the outside. Rathedon then turns his attention to the fallen Richard Rider, only now starting to stir, and as soon as the Hollywood Heartthrob gets up, he puts him down AGAIN with the Death Blossom! A cover…)
ONE!
TWO!
THREE! IT'S OVER!
JR Freeman: DEATH BLOSSOM! DEATH BLOSSOM! That's GOTTA be it, Richard Rider's NOT getting up from THAT!
Alfonso Banks: Well, it's literally got "Death" in the name, so…no. I don't imagine he is.
(Sure enough, the bell rings JUST as Lyons manages to reach the group to break up the pin. The Feral Prince growls at being too late and tries to lay into his opponents with blows, but referees swarm the ring to stop him now that the match is over. The two stare daggers at each other as Rathedon's hand is raised in victory, some of the fans applauding this relative newcomer's abilities.)
WINNER - Michael Rathedon
---
(Fade in. As Riot returns from a commercial break, some insipid ad shilling online gambling addictions or that second car you do not need, we open not on the ring but on a shot of pure, unrelenting darkness. We hold on this darkness for a long moment, as the deafening silence gives way to muted commentary, which gradually grows in volume. As it becomes clearer, listeners will recognize it as the commentary of Alfonso Banks and JR Freeman at Destiny, specifically during the Mike Hawk/Jonathan Sanders "Three Stages of Hell" match.)
Alfonso Banks: Dear god, he did it! The beautiful motherfucker actually did it! That's why he'll always be MY president!
JR Freeman: Will you EVER stop worshiping him?
Alfonso Banks: Only the day I DIE, JR.
(As this commentary plays, and grows more audible, it is overlaid with translucent, black-and-white footage of the ending of the match, with Hawk nailing Sanders with the "Clean Up on Aisle YOUR FACE!" and dropping him into the hole, then swiftly burying him in the sand as the referee counts down. As this clip concludes playing, and the announcers' voices die out, we once again return to the silence and the blackness which greeted us…until a familiar voice breaks the silence.)
"Did you REALLY think that it was over?"
(At this, as a chill no doubt begins to run down the spines of all who bear witness, a solitary lightbulb clicks on in the darkness, illuminating the form of "The Lost Cause" Jonathan Sanders, seated upon a nondescript, black steel chair.)
Jonathan Sanders: Did you TRULY believe…that I was
gone?
(He pauses here, his eyes locking on the camera, his lips curling into a cruel and mocking smirk.)
Jonathan Sanders: I will exist as long as this bloated and malignant business continues to
limp along
like a dying animal, clinging in stubborn defiance to the tepid, fading embers of the glorious life that it once led. I will EXIST so long as there is
conscious thought
within the MINDS of those who have been bulldozed by this bitter, brutal system!
I
will exist as long as there is
hope
, for the glorious work of the ANTITHESIS has not concluded until this world and all who prop it up lie buried in the ashes at our feet. I am not only
Michael's
Impossible Question…and I do not need HIM to give me purpose. I exist because
you do
- all of you - because your apathy and your complacence bred a
fail state
for ALL mankind, a wretched pool of sin and filth from which a Dark Reflection sprung. I WILL see you again, Michael…but I am content to wait. I will let this hatred fester, let the losses stew and metastasize until I desire nothing more than to simply watch those final, fleeting wisps of light fade fully from your eyes.
Jonathan Sanders: But in the meantime…it seems Ozymandias has fled. She saw the future, and chose to escape while she still could. And I do not blame her. But in the interim, her flight has left a…void. A vacuum, begging for the blood and flesh of modern gladiators who will fling themselves into their doom to fill its hungry maw. I will not allow this any longer. This…perpetual circadian cycle of annihilation and reward. If there is a vacuum…the ANTITHESIS will fill it. WE will step into the void and throw our bodies to the wolves…because
we
have survived much, MUCH worse.
(Sanders pauses here.)
Jonathan Sanders: We have seen the snarling faces of the world - the violent beasts which inhabit the black, forgotten places you fear to speak about in whispers. We have GAZED into the abyss that is opening in PWS…and
none
of us have blinked.
(Another pause. A beat. Sanders' grey eyes harden as his lips curl up again.)
Jonathan Sanders: I am not afraid of darkness. I have no dread of the beyond. I have
looked
upon the great Hereafter and humanity's grim future…and it merely showed me what I am. I
am
that Dark Reflection. I AM your violence and your hate. I am the cold that slithers through your soul; that slowly sinking feeling you develop deep in the pit of your stomach that tells you all is truly
LOST.
(Sanders pauses here, inhaling once again. When he speaks, his voice is lower, barely above a whisper.)
Jonathan Sanders: I am the End of Everything. The Impossible Question pro wrestling cannot answer. The lone and level sands which will
swallow
Ozymandias' paltry ornament and
scatter the pharaoh's legacy unto the wind!
I will
never
be defeated, and the ANTITHESIS CAN
NEVER
BE DESTROYED!"
(Here, Jonathan pauses, hanging his head and taking a moment to collect himself. As he calms, his shoulders rising and falling with his breath, he slowly raises his head to look back into the camera lens.)
Jonathan Sanders: We stand on the precipice of a great and terrible storm. A hurricane which threatens to RAVAGE the heart of PWS: Apex and thrust her ship upon the rocks to be scuttled forevermore among the surf…
(Sanders pauses here, inhaling sharply.)
Jonathan Sanders: There is a darkness coming. A swift and terrible violence which will split the Heavens themselves with righteous fury…and unleash the power of the Horsemen - the ANTITHESIS - in full force upon the Earth!
(Sanders' lips curl upwards again, into a wicked, predatory grin.)
Jonathan Sanders: But have no fear, my children, for I am with you always…
(A pause. A beat. His expression contorts into one of directed and focused malice.)
Jonathan Sanders: Even unto the
end
of the
world
.
(Sanders slowly reaches up, curling his fingers around the chain which dangles from the lightbulb. His steel-grey eyes lock onto the camera, lips forming one more dark and devious smirk as he spits one swift, emphatic word.)
Jonathan Sanders: Amen.
(Sanders tugs the chain and the bulb shuts off, immediately plunging the scene into darkness.)
(Fade out.)
---
(The cameras cut to backstage, where we see Audrey Russow come into shot. We hear the live crowd cheer loudly for the hometown girl, as she makes her way to gorilla, where she meets up with Gracie Lopez. The two fist bump and nod to each other.)
Audrey Russow: You ready for this?
Gracie Lopez: Let's do it. Go get your hometown welcome, girl.
(Audrey smirks, as her music stats to play,a nd she walks through the curtain.)
---
Tag-Team Match
Winning team gets future singles title shots
The Landersons vs. Audrey Russow & Gracie Lopez
(The veterans start out this tag bout, with El Landerson across the ring from Audrey Russow. Things start off surprisingly slowly, given the styles of both competitors, but it seems like they're taking the time to feel each other out and get familiar with their opponents. Eventually Audrey takes control, and holds it for a while using her weight advantage to keep Landerson grounded. He struggles valiantly to build momentum against a larger, stronger and - frankly - ANGRIER opponent, but it's all to no avail, and the crowd begin to rally around Audrey as she builds up a head of steam. This all culminates with a Wrong Side of Heaven and an attempted cover…)
ONE!
TWO!
NO!
JR Freeman: Damn, I thought for SURE that was it! What tenacity from El Landerson!
Alfonso Banks: Well, they HAVE been on a losing streak so far, JR; you've gotta figure they have something to prove tonight.
(Audrey doesn't seem frustrated after the cover and continues on the offensive…but Landerson catches HER with a surprise rollup!)
ONE!
NO!
(Audrey powers out but it's the exact distraction El Landerson needs to make the tag to Aaliyah, who comes in like a house on fire and starts taking it to Audrey with her speed. She manages to keep the legend grounded for a surprisingly long time before the tide turns, even managing a Tilt-a-Whirl Arm Drag into a Split-Legged Moonsault, but her cover only nets a two-count. Audrey rolls to the ropes and manages a tag to Gracie, who can match Aaliyah's speed and THEN some, and uses her experience in the business to put the rookie in her place. This beatdown continues for several minutes more, with Aaliyah struggling valiantly and refusing to go down, but ultimately experience wins the day, and Gracie manages to nail a Blue Thunder Bomb followed by the Style and Grace! El Landerson runs in to break things up, but gets intercepted by Audrey Russow, allowing the referee to count the…)
ONE!
TWO!
THREE!
JR Freeman: STYLE AND GRACE! STYLE AND GRACE! THIS ONE IS OVER!
Alfonso Banks: Looks like Audrey Russow and Gracie Lopez get future title shots of their choice! Can't say I'm HAPPY about that, but hopefully they can knock Makarios or that smug prick Ryder down a peg or two…
JR Freeman: Well, the Landersons didn't give up without a fight, but tonight just wasn't their night, unfortunately. Guess we'll have to see what's next for this father-daughter duo.
WINNERS - Audrey Russow & Gracie Lopez
---
PWS: APEX Rise to Glory
Tuesday, July 26, 2022
Capital One Arena - Washington, D.C.
---
(The cameras cut back to the ring where Star Stormz stood next to a table. There was a chair set up on each side, and a clipboard in the middle with 2 pens next to it. Standing on both short ends of the table were security guards. Star raised the mic to her lips.)
Star Stormz: Welcome back, everyone! Tonight sure has been interesting! I, for one, can't wait to see who will win next week's battle royal for the chance to face Cleo at Rise to Glory! I think Max made a great choice considering the situation. But that's not why I am out here. Tonight, we have the official contract signing for the United Title Match at Rise to Glory, where Alexis Makarios will defend her title against Heather Haze. As you can see, I am fully expecting this to go south… fast… so I had some extra security show up to keep things civilized. Let's get this thing going!
("MZ Hyde" by Halestorm echoes as Alexis comes out from behind the curtain with her husband James Younger by her side. She holds up the United Title proudly as she makes her way down to the ring to a chorus of cheers from the fans. They get in the ring and go to their side of the table. Alexis's demeanor changes, however, as she looks up the ramp, waiting for Heather)
('I wanna be Bad' then hits the speakers as the crowd begin to give their usual mixed reaction whenever the controversial superstar makes her arrival.)
JR FREEMAN: Well, here we go! We've been waiting for this contract signing all week long, and tonight we're gonna make it official. For the first time Alexis and Haze will go head to head at Rise to Glory for the United belt. And the stakes can't get any bigger than this.
ALFONSO BANKS: SHUT UP! I'm just worried about my girl and her leaving out of here alive. I mean Just think if Alexis were to SNAP and security wouldn't be able to stop her from ruining that pretty face and that beautiful, voluptuous body of Heather's.
JR FREEMAN: (sarcastically) Yeeeah…That would be a shame now, wouldn't it.
(Everyone's eyes are now fixed to the entrance ramp, waiting for Heather to come out and do her usual erotic entrance that's she's infamously known for. This goes on for about five minutes with her music continuing to pipe through the loudspeakers until the fans slowly begin to realize that they're being 'duped' and start immediately booing and hurling garbage at the entrance way. )
MAN: Excuse me ! If I could kindly get everyone's attention… Please, settle down now. Thank you!
(Just then a smartly dressed man in glasses with slicked back hair and a goatee is seen coming out from the curtains wearing a big smile on his face. The man saunters down the ramp holding a briefcase in one hand, and a microphone in the other as the fans react with confused looks on their faces.)
MAN: Allow me the pleasure…I am Earl Weinstein ESQuire…and I am an attorney to my client, Heather Haze. And unfortunately MISS Haze would like to offer to all her fans a sincere apology and the deepest regret for not being here tonight with you for this momentous contract signing…as she had prior engagements to attend to, that has made it difficult for her to grace you by her alluring presence.
JR FREEMAN: Oh for crying out loud!!
(The fans let out boos as the smugly lawyer shakes his head before entering the ring with his briefcase in hand.)
EARL WEINSTEIN: But don't worry, I have been appointed on behalf of my client to ensure this evening's proceeding goes peacefully as planned, without any provocation. As it would be in my client's best interest to avoid (pointing to Alexis) any volatile, unpredictable, or unlawful behavior coming from Miss Makarios that could very well null this match from taking place at Rise to Glory. And we wouldn't want that to happen now, wouldn't we?
(Alexis snarls at the cocky lawyer as he gulps and quickly cowers behind Stormz.)
EARL WEINSTEIN: Miss Stormz, I would ask that you PLEASE refrain Miss Makarios from acting out unlawfully. I am only just a messenger doing my job that I've been assigned to do.
(Alexis, outraged, grabs her mic)
Alexis Makarios: How… THE FUCK…are we supposed to do a CONTRACT SIGNING… without one of the participants??
(Star nods at security, who are keeping a close eye on Alexis)
Star Stormz: That is a good question. Are you capable of signing this match contract on behalf of Miss Haze?
(The lawyer smiles with that same smug look on his face as he reaches into his briefcase and pulls out a paper.)
EARL WEINSTEIN: That is a very excellent point you've both raised, which I'm more than happy to go over…however my client had a bit of an EPIPHANY so to speak! An epiphany that drove her to completely draw up a new contract, under my legal guidance of course, which as you can see bears her own handwritten signature already on it along with a few set of rules & agreements in place that I trust you will abide by in good faith..
(Earl shows off with the contract proudly, showing the visible signature that's already signed on the paper.)
EARL WEINSTEIN: You see, this contract ensures my client's safety that Miss Makarios won't be able to touch my client in any way…that is until Rise To Glory…or doing so will automatically void the match and thereby will have Miss Makarios be forced to relinquish her title belt to Miss Haze on a technicality…THAT is only if Ms. Makarios agrees to the terms of this contract.
(Star looks to Alexis, who snatches the paper away from the lawyer. She looks it over quickly before placing it down on the table)
Alexis Makarios: What a fucking joke. That bitch had the nerve to stand out here… TO MY FACE… and claim to have had an affair with my husband…
(The cameras cut to show James, who shakes his head. Alexis, however, was livid as she stared down the lawyer)
Alexis Makarios: If that is what it takes to get my hands on her at Rise To Glory… then so be it. She is gonna run scared cuz she KNOWS she fucked up. So fine, I'll play this stupid ass game. But please note… that if she so much as lays a finger on me or my husband… this goes out the window and I'll fucking kill her.
(Alexis signed the contract aggressively and slid it across the table to the lawyer.)
Alexis Makarios: Can you give her a message for me?
(Alexis picks up the clipboard the original contract was on and CRACKS it right over the smug face of the lawyer. As soon as she does, the security members in the ring hold her back as Star shakes her head. A trainer helps the lawyer up as Star can be seen saying something to Alexis before the cameras cut to a commercial)
---
(We cut backstage to see Max Sheppard sitting at his desk in his office, as he looks up at the camera.)
Max Sheppard: So, right now I'm going to name off the list of participants we have for our battle royal to determine who will be facing Cleo Phillips at Rise to Glory. We've had a number of superstars sign up tonight, and this is the final list.
(He holds up a clipboard and starts reading off a list.)
Max Sheppard: Miles Kasey..
(The fans cheer.)
Max Sheppard: Jonathan Sanders…
(The fans boo.)
Max Sheppard: Mike Hawk…
(The fans boo again.)
Max Sheppard: Jennifer Ca-I mean Makarios.
(The fans cheer.)
Max Sheppard: Alexandra Calaway and Michael Rathedon…
(A mixed reaction.)
Max Sheppard: Tyson Sykes…
(A mixture of cheers and boos from the crowd.)
Max Sheppard: Ivory Sullivan…
(A soft reaction, as Max lets out a sigh.)
Max Sheppard: *sigh* Aaliyah Landerson…
(Not much of a reaction.)
Max Sheppard: And the returning Dylan Howell.
(The fans cheer. Max sets the clipboard down and looks back up at the camera.)
Max Sheppard: There you have it, the list of competitors. The best of luck to everyone, as I'm sure it will be a great match. Now, I do hope everyone enjoys tonight's main event.
(With that, we cut to ringside.)
---
Main Event
PWS: APEX "Canadian Domination" Championship
Submission Match
Devon Ryder © vs. Violet Amelia Holt
(The camera cuts to the entranceway. The lights softly die down as a countdown clock appears on the screen. Once the clock hits zero, "I Miss The Misery" strikes up as Violet Amelia Holt steps out onto the stage with a softball bat draped across her shoulders. The crowd doesn't quite know what to do as she stands on the stage and stoically stares at the ring with a malice look on her face.)
Meg Reynolds: The following contest is a submission match, and it is for the Collateral Damage…
(Devon Ryder's fiancee Desiree is in the ring next to her, and whispers something in the ring announcer's ear.)
Meg Reynolds: Sorry, the… "Canadian Domination" championship! Making her way to the ring, the challenger… from Orlando, Florida, standing five feet two inches tall and weighing 128 pounds, please welcome… VIOLET AMEEEELIAAAAAA HOLT!
(Violet somberly walks down the ramp while muttering things underneath her breath. Her eyes remain on the ring as she quietly hops up onto the ring apron. She steps through the ropes, walks over toward the corner and leans against it.)
JR Freeman: This is the rematch we've all been waiting to see!
Alfonso Banks: Speak for yourself, JR! Where the hell is Squid/Puppies 2?
JR Freeman: Squid Puppies 2 sounds like a Disney movie under the sea.
Alfonso Banks: Oh my god, you're right!
(The lights dim, strobing red and white as the opening chords of "American Woman" blare over the speakers. Desiree steps up and politely asks Meg Reynolds for her mic, which she is given.)
Desiree: And introducing her opponent! The PINNACLE of Canadian Professional Wrestling! From the greatest nation in the world, weighing 92 kilograms, he is The Canadian Hero, and your Canadian Domination Champion… and mine… UNBREEEEAAAKABLLLEEE… DEVOOOOON RYYYYYDEEEERRRRR!
(The song fully kicks into gear, with the opening riff blasting over the speakers as the lights come back up and Devon Ryder is standing on the entrance ramp, with his back to the audience and his arms spread out, revealing the back of his jacket which reads "CANADIAN" across the shoulder blades and "HERO" across the lower back, with a white maple leaf emblazoned between them. Ryder holds the Canadian flag outstretched in both hands, so his body is silhouetted against it as a backdrop, and he holds that position until the opening riff changes and the vocals kick in, at which point he spins around on his heel and begins to strut arrogantly down to the ring, carrying the flag proudly over one shoulder as he does. When he reaches the base of the ramp, he grins, looking around at the audience before climbing the steps and popping in through the middle rope. Ryder spins around in the centre of the ring, arms outstretched with his flag again and then holds that pose as red and white pyrotechnics explode from the turnbuckles. Taking his beautiful bride-to-be in his arms, The Canadian Hero pulls her in for a long, passionate kiss, their heads down, eyes closed in passion. Once that's finished, he then folds the Canadian flag and places it gently in the corner of the ring before taking off his jacket and handing it to a ring attendant, who he makes a point to audibly thank, then turns to Violet, smiling at her and holding out a hand for a handshake, which she refuses.)
JR Freeman: A surprisingly mixed reaction to both competitors!
Alfonso Banks: Of course to both, that's what mixed means!
JR Freeman: Have you ever gotten a mixed reaction?
Alfonso Banks: That's irrelevant.
(The bell rings and Ryder's the first one to make a move, putting a hand up to try for a test of strength.)
Devon Ryder: Wrestle me, Violet!
(Violet looks him over and smirks, taking his hand as they go for the test of strength, with the Canadian Hero winning and taking the advantage, throwing Violet to the mat. He picks her up, whipping her into the turnbuckle, running after her and hitting a running knee. He grabs Violet, getting her up to the top rope and hitting a superplex, before rolling through into an ankle lock!)
JR Freeman: Ankle lock!
Alfonso Banks: Wow, this thing is off to a fast start!
JR Freeman: No kidding. I think both people want this just a little more than each other!
Alfonso Banks: Each other? Pffft, and you question MY logic.
(Violet struggles, reaching for the ropes, but manages to kick Devon in the chest repeatedly. She manages to flip over, getting Devon off of her, kipping up as she runs at him, giving a Kiss of Death! She starts delivering kicks, looking for the Ten Bell Salute. She gets 1, 2, 3, 4, 5, 6, 7, 8, 9… 10! The audience chants along with the kicks as she gives them. Devon falls to the mat and Violet uses the opportunity to kick him out of the ring under the bottom rope, then running and rebounding off the ropes, diving to the outside with a Blonde Bomber! Standing, Violet picks Ryder up and hits his head into the turnbuckle, before sliding him into the ring, joining him inside. When they both get back in, Violet locks in an ankle lock of her own! The referee gets down on the mat, asking Devon if he gives up, to which the Canadian Hero responds "Never!" as he grabs the bottom rope. Violet keeps wrenching on the hold for a count of 4, releasing it only when the referee nearly has to pull her off of Ryder.)
JR Freeman: That's one thing I can say about Violet, she is relentless!
Alfonso Banks: Y'know who else was relentless, JR? Hitler.
JR Freeman: Are you comparing Violet Amelia Holt to Adolf Hitler, probably THE most reviled man in history?
Alfonso Banks: Are YOU?
JR Freeman: What? No! …What!?
(The match continues with Violet immediately trying another submission, this time the Freeway Disaster, but Ryder manages to stand up with her on him, running backwards full-force into the turnbuckle. Violet doesn't let go, but Devon walks forward and then does it again, repeating this one more time before Violet finally stops, both people collapsing onto the mat. They're up pretty quickly, and Violet runs at Ryder, but is caught for a snap powerbomb, giving The Unbreakable One time to recover. Once Violet's up, Devon engages in some European Uppercut action, delivering several in a row, before grabbing and dropping her with Aurora Borealis!)
Alfonso Banks: Daaaaamn, someone call Mr. And Mrs. Borealis, 'cause their daughter Aurora is loose, and she's feisty!
JR Freeman: Alf, are you, uh… are you feeling okay?
Alfonso Banks: Steamed Hams!
JR Freeman: Levi Russow made "brownies" again, didn't he?
Alfonso Banks: I can't stop myself, JR! He puts almonds in them! ALMONDS!
(After that brilliant display, Ryder locks in a Fujiwara armbar! Violet struggles, being in the center of the ring, as Ryder wrenches on the hold! Five Feet of Crazy starts elbowing Ryder with her other arm, but it seems ineffectual. The ref asks her if she wants to give up, when she yells back "Fuck no!" and manages to roll her way out of the move.)
JR Freeman: Wow, quite an athletic display!
(Ryder waits, respectfully, for Violet to get to her feet. Once she does, he starts on the offense again, an arm drag takedown followed up by a cross-legged STF. Violet's right at the rope, so she grabs it and kicks Devon off of her, standing up and getting a second wind. She runs at him, hitting another Kiss of Death before heading up top, jumping off with a jumping knee drop! She then goes over to his legs and locks in Nerdvana! Ryder reaches out in pain, but the ropes are too far. He looks to Desiree to calm his spirits, and smiles.)
Desiree: Shoot me down…
Devon Ryder: I won't fall!
(The audience chants "I AM TITANIUM!" as Devon crawls his way, slowly, agonizingly, over to the ropes, making a rope break. Violet begrudgingly lets it go, as Ryder flips over, kicking Violet in the gut from the ground and rolling out of the ring to recover. Violet gets out, following him, but comes face-to-face with Desiree. Violet smirks, looking at Devon as she gets ready to hit Desi, but Desiree strikes first, landing a stiff slap to the face of Violet to a rather large pop. Violet looks furious, ready to attack this woman, but Devon grabs her before she can, rolling her back into the ring. Violet kicks Ryder a couple times, hitting an underhook facebuster, before going up top again. Unfortunately for Holt, she plays to the crowd too much, and soon Devon gets up and goes to the top with her, holding her up in the air, looking for Niagara Falls, but it's reversed into a Snap Superplex to the outside!)
JR Freeman: Oh, Dios Mio! That must have been awfully hard on both of their bodies!
Alfonso Banks: Heheheh… hard.
JR Freeman: Wow, those brownies are really taking effect on you, aren't they?
Alfonso Banks: What state are we in?
JR Freeman: Pennsylvania.
Alfonso Banks: Then no, I'm completely fine!
(Both competitors are out for a bit, but soon they both come to, Violet taking swings at the Canadian Hero as soon as she's up. Violet grabs Ryder and whips him into the apron, before putting him onto said apron, where she grabs his legs and drags him to the turnbuckle, slamming his leg into it one by one. She gets a sadistic smirk on her face and locks in a turnbuckle-assisted Gravitas Non Grata! Devon, being right next to the ropes, grabs one immediately, but even after just 4 more seconds of the move being locked in, Violet looks pleased with herself. She backs up, then runs at the turnbuckle again, trying to deliver a Parkway Collision to the hurt leg of Devon Ryder, but Ryder moves and she collides with the turnbuckle shoulder-first, causing her to fall to the ground.)
Alfonso Banks: Oh, what a swift move from Devon Ryder, getting his leg out of the way of that!
JR Freeman: Indeed, someone might need to tell us the license plate number of the truck that Violet just rammed herself into!
(Violet manages to stand, rolling back into the ring, a little dazed but overall looking like she still has some fight left in her. Devon's very much the same way, he's wrestling like a man who just got in the ring. Violet moves first, trying for the Fifty Shades of Velvet, but Devon counters into a vertical suplex. He gets down and locks in the Canadian Shield! Violet struggles, but doesn't give up. She stays steadfast, and even when asked by the referee if she gives up, she shouts an enthusiastic "When I'm dead!". The hold, being fragile, is eventually broken and Violet gets back out of the ring. She recovers and gets back in, which Devon lets her do, and manages to finally hit the Fifty Shades!)
JR Freeman: Fifty Shades of Velvet! She needs to capitalize!
Alfonso Banks: Well, she can't exactly pin him! Or, she could, but she would be doing it just for fun, not to win.
JR Freeman: Yeah, exactly. Pinfalls don't count, there are no count-outs, it's submissions only.
(She gets up on the turnbuckle, looking to hit the Rings of Disney, and jumps off, but Devon gets the knees up, making her hit them, before he crawls over to her and locks in the Universal Health Care! It's in the center of the ring, the ropes are so far away, but Violet's not giving up! She tries elbowing her larger opponent in the head, but it does nothing. She reaches for the ropes, but they're too far. Violet starts to fade, but Ryder looks at the timekeeper.)
Devon Ryder: How long?
(The timekeeper signals with 5 fingers, and Devon nods, breaking the hold.)
Alfonso Banks: What the- what does he think he's doing!? He's got this match won!
JR Freeman: By the looks of things, he's giving Violet a chance!
(He reaches down, extending a hand to Holt, who takes it, and Devon pulls her up. He motions to his groggy opponent with 5 fingers of his own.)
Devon Ryder: Violet! Five minutes!
(Violet nods in response, hitting Devon in the stomach with a stiff right hand. Le Héros Canadien smirks in response, giving her one back. The two exchange blows, lefts and rights, before Violet locks in the Pickpocket! She has Ryder in the center of the ring, but Ryder looks at the crowd.)
Devon Ryder: Shoot me down…
(The audience chants along, "I won't fall! I am Titanium!" As Ryder finally breaks the hold, then uses the last of his strength to deliver a belly-to-back suplex to Violet. Both competitors are down for a moment, before pulling themselves up with the ropes. Violet hits a Purple Rainmaker, and both are down again. They manage to pull themselves up, Violet a little quicker than Devon, but Ryder thinks fast and takes her to the ground by tripping her up with his legs, before standing himself. He picks Violet up, hitting a Pendulum backbeaker, and as soon as Violet collides with the mat, the bell rings.)
Alfonso Banks: What the fuck? What's that?
JR Freeman: I think Ryder's 5 minutes are up.
Meg Reynolds: Ladies and gentlemen, this match has hit the remaining TV time, meaning it has been declared a Time Limit Draw!
("American Woman" starts playing as Desiree slides into the ring, asking for Meg's microphone, which she is given.)
Desiree: Meaning, still your Canadian Domination champion, DEVON RYYYYDEEERRRR!
(The two kiss, Devon holding his title in the air. Looking at Violet, he soon goes over and helps her up, raising her arm for the crowd.)
WINNER - TIME LIMIT DRAW
STILL CANADIAN DOMINATION CHAMPION - DEVON RYDER
---
JR Freeman: Well, ladies and gentlemen, Meg Reynolds was right, that really was all the time we have! Join us next week for more Riot!
Alfonso Banks: And as we always say… Good Journey.
JR Freeman: We never say that.
Alfonso Banks: Maybe YOU don't.
JR Freeman: Good night, folks!
(The PWS: APEX logo flashes across the screen before the show goes off the air.)
© PWS: APEX 2022, All Rights Reserved.